Housing Making a Tentative Entry Into Busy U.S. Selling Season
by
New-home sales fall for third month on slump in western U.S.

Number of houses on market reaches highest level since 2009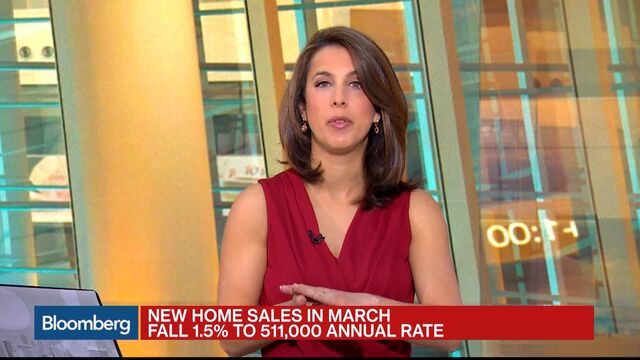 When it comes to the biggest purchase Americans can make -- a new home -- there are still some pockets of tentativeness.
Sales unexpectedly declined for a third month in March, falling 1.5 percent to an annualized rate of 511,000 houses as demand withered in the West to its weakest level since July 2014, a Commerce Department report showed Monday.
The figures were the latest in a series of reports showing uneven progress in March and a labored start to the housing industry's busiest selling period of the year. While solid job growth and low borrowing costs are conducive to greater demand, a pickup in buying interest also depends on slower home-price appreciation. The report hinted that's starting to occur.
"The trend has definitely softened for both new and existing home sales," said Ryan Sweet, a senior economist at Moody's Analytics Inc. in West Chester, Pennsylvania. "Fundamentals will win the day, with the job market tightening, mortgage rates still extremely low and the credit box opening up a bit more with each passing quarter. I think we'll see stronger home sales through the rest of this year."

The government's data did show signs of an easing of the inventory constraints that have plagued the housing recovery and pushed prices higher and out of reach for some Americans. There were 246,000 new houses on the market at the end of March, the most since September 2009. The supply of homes at the current sales rate rose to 5.8 months, the highest since September, from 5.6 months in the prior period.
The median sales price decreased 1.8 percent from March 2015 to $288,000.
Another caveat is that the new-home sales figures are erratic from month to month, helping explain why economists prefer to look at longer-term trends. The report said there was 90 percent confidence the change in sales last month ranged from a 13.5 percent drop to a 16.5 percent increase.
Sales in the West declined 23.6 percent to a 107,000 annualized rate in March after surging 21.7 percent the previous month. In the South, purchases climbed 5 percent to a 314,000 pace in March, the strongest in 13 months. Sales advanced 18.5 percent in the Midwest, the first gain in three months, and were unchanged in the Northeast.
U.S. new-home sales grew in the first quarter at a 6.2 percent annualized pace, a slowdown from the 18.7 percent surge in the last three months of 2015.
"The overall picture is still pretty good," said Tom Simons, a money-market economist at Jefferies LLC in New York.
Purchases of new properties, which account for less than 10 percent of the residential market, are tabulated when contracts get signed. They are generally considered a timelier barometer of the residential market than purchases of previously owned dwellings, which are calculated when a contract closes, typically a month or two later.
Existing-Home Sales
The market for previously owned homes improved last month, climbing 5.1 percent to a 5.33 million annualized rate, the National Association of Realtors reported April 20. Prices rose as inventories remained tight.
Even so, the market is getting little boost from first-time buyers, who accounted for 30 percent of all existing-home purchases, an historically low share, according to the group.
Builder Data
Recent data on homebuilding has been less encouraging. New-home construction slumped in March, reflecting a broad-based retreat, a Commerce Department report showed last week. Home starts fell 8.8 percent to the weakest annual pace since October. Permits, a proxy for future construction, also unexpectedly dropped.
The National Association of Home Builders/Wells Fargo index showed builder confidence was little changed in April.
"Volatility has been prevalent throughout this recovery, but now it seems people are beginning to wonder if the volatility is more than just temporary," said Russell Price, senior economist at Ameriprise Financial Inc. in Detroit. At the same time, "housing is going to remain a positive contributor to economic growth for this year, next year and maybe even the year after unless something drastic happens."
Before it's here, it's on the Bloomberg Terminal.
LEARN MORE