Gannett Seeks Tribune's LA, Chicago Papers for $815 Million
by , , and
Tribune hires advisers to consider unsolicited takeover bid

Offer is a 63% premium to Tribune's closing price April 22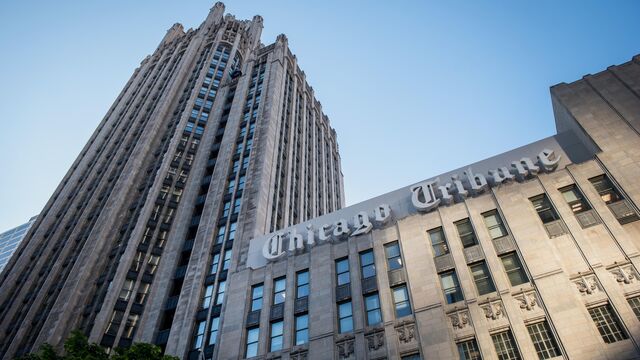 Gannett Co., publisher of USA Today, made an $815 million unsolicited bid for Tribune Publishing Co., setting up a potential takeover fight in a quest to gain bigger regional newspapers like the Los Angeles Times and the Chicago Tribune.
Gannett offered $12.25 in cash per Tribune share, a 63 percent premium to Tribune's closing price on April 22, according to a statement Monday. The company publicly announced its proposal two weeks after unsuccessfully making a private offer, putting pressure on top Tribune shareholder Michael Ferro to make a deal just three months after he became chairman.
Shares of Tribune soared 57 percent to $11.74 at 12:54 a.m. in New York, and rose as much as 60 percent in its biggest intraday increase ever. The offer price includes the assumption of $390 million in debt, Gannett said.

For the owners of daily newspapers, acquiring competitors and slashing costs has become a way to buy time while figuring out how to make more money online.
Last year, the newspaper industry saw the most deals for the largest amount of money since the 2008 financial crisis, with 70 daily newspapers being sold for a combined $827 million, according to mergers-and-acquisitions adviser Dirks, Van Essen & Murray. Gannett bought 15 dailies, including the Milwaukee Journal Sentinel, and Tribune snapped up the San Diego Union-Tribune. Tribune failed recently to buy two Southern California newspapers after the U.S. Justice Department angled to block it on competitive grounds. Gannett and Tribune have little overlap in large markets, which could help win regulatory approval.
"For better or worse, Gannett is doubling down on newspapers," Paul Sweeney, a Bloomberg Intelligence analyst, said in an e-mail. "The industry fundamentals remain brutal, yet Gannett apparently sees value in getting bigger."
First Approach
Gannett went public with its offer Monday after several days of negotiations, according to people close to both companies. Gannett approached Tribune on April 12, and Tribune set a June 2 date to respond to Tribune's offer. Gannett felt that that was too much time, and that Ferro didn't want to sell because of his desire to control the company, according to a person close to Gannett.
Tribune isn't opposed to working with Gannett on a deal but needs more time to review the proposal, according to a person close to Tribune. Gannett made some friendly proposals, but reversed itself on details about how to go forward, and decided to make a unsolicited takeover offer because Tribune hadn't responded in time, according to the person close to Tribune. Tribune had planned to discuss its strategic path during an earnings call on May 4.
Tribune said Monday it hired Goldman Sachs Group Inc. and Lazard as financial advisers and Kirkland & Ellis LLP as a legal adviser to consider the offer. The company has no other buyers, according to the people close to both companies.
"With Michael Ferro having taken over as chairman of the Tribune board only three months ago, board support becomes a complicated issue," CRT analysts led by Lance Vitanza and Brian Denes wrote in a research report Monday. "What we do know is that hostile takeovers are virtually unheard of in the newspaper industry, where cultural fit is paramount and regulatory concerns loom large."
National Scale
Nationwide, Gannett would have a 17 percent share of total daily newspaper circulation of around 41 million, according to Bloomberg Intelligence. Currently, Gannett has about a 12 percent share, while Tribune has 5 percent.
Gannett's largest newspapers include the Arizona Republic and Detroit Free Press. By acquiring the Chicago Tribune and Los Angeles Times, the company would gain some leverage over national advertisers just five months after reorganizing its news outlets under what it calls USA Today Network group.
In the Florida media market, for example, Gannett would have a "formidable presence," said Rick Edmonds, an analyst at the Poynter Institute, a nonprofit journalism school. Gannett owns papers from Pensacola to Fort Myers, while Tribune publishes the Orlando Sentinel and the Sun-Sentinel in South Florida.
In Los Angeles, however, Gannett could sell the Times to local owners, Edmonds said. Last summer, Eli Broad, a Los Angeles billionaire, made an overture to buy the newspaper and the San Diego Union-Tribune, a person with knowledge of the matter said at the time.
Gannett's approach comes amid changes in leadership and strategy at Tribune. In February, Ferro acquired a 16.6 percent stake in the company and became non-executive chairman. Less than a month later, Tribune ousted Chief Executive Officer Jack Griffin. That followed the firing in September of Los Angeles Times Publisher Austin Beutner after little more than a year on the job.
It also recently combined the roles of editor and publisher across its portfolio of newspapers. And its flagship paper, the Chicago Tribune, is implementing a metered paywall, meaning readers could access as many as 10 articles a month online before being asked to pay for a subscription.
With declining circulation and ad revenue, both companies have separated their print operations from the more-profitable broadcasting and TV segments. Tribune Media jettisoned Tribune Publishing in August 2014, and Gannett followed suit a year later, splitting off its broadcasting unit and renaming it Tegna. While Tribune Publishing was saddled with $350 million in debt after its spinoff, Gannett was almost debt-free.
Newspaper ad spending is expected to plunge 75 percent to $12 billion in 2016 from 2005's $49 billion peak, according to Magna Global. Print has been steadily losing share to digital ads and the future looks bleak, with a projected $5 billion in newspaper ads for 2019, Geetha Ranganathan, a Bloomberg Intelligence analyst, wrote in a recent research note.
"This emphasizes the need for a viable digital strategy in circulation and ads," she wrote.
Before it's here, it's on the Bloomberg Terminal.
LEARN MORE