business
Freeport Losses Overshadowed by Deal Updates With Debt Pending
By
CEO Adkerson trying to make inroads into $20 billion debt load

Company is expected to post its sixth straight quarterly loss
Freeport-McMoRan Inc.'s quarterly financial results probably will take a back seat to whatever the world's biggest publicly traded copper miner has to say about its efforts to sell assets.
The Phoenix-based company is expected to post its sixth consecutive loss and a 15 percent drop in revenue when it reports first-quarter results on Tuesday. But analysts will be more focused on possible divestments in its mining and energy businesses, said Garrett Nelson, an analyst with BB&T Capital Markets in Richmond, Virginia.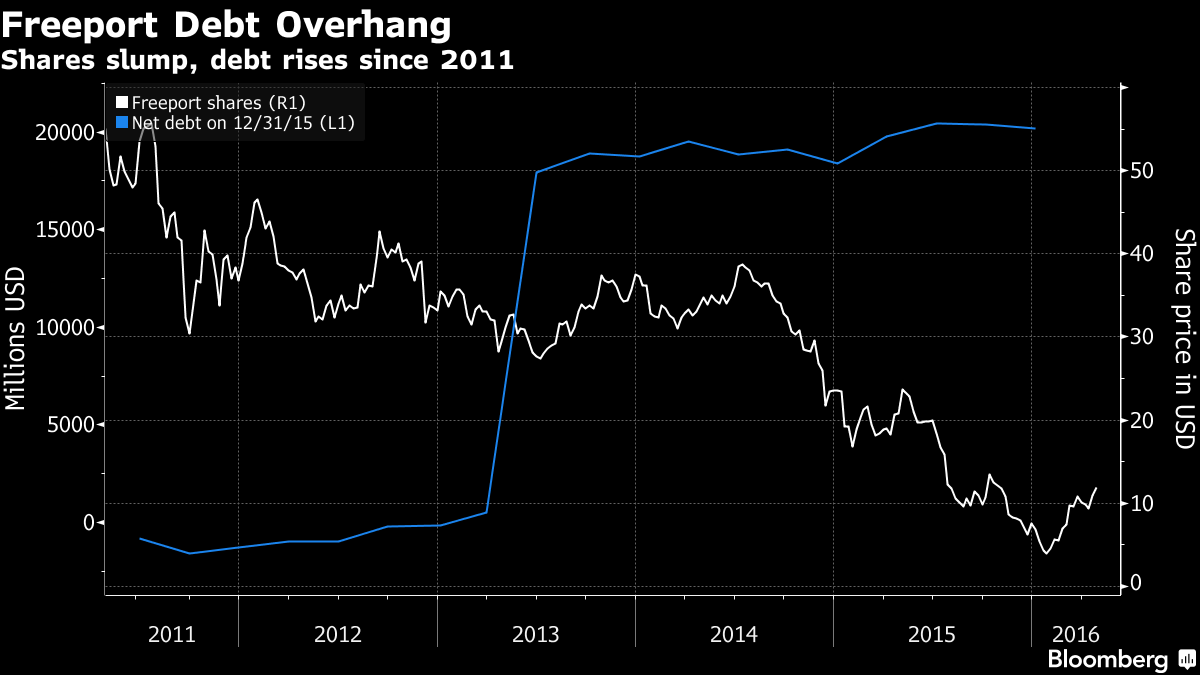 "It all comes down to what they sell and the terms of the transactions they might reach," Nelson said Monday by telephone. "They've been working towards asset sales for a long time now, so I think it would be a disappointment if they didn't release anything when they report earnings."
Freeport began working to cut costs and shore up its balance sheet after its debt ballooned when it bought two energy companies in 2013 for $9 billion -- just ahead of a downturn in crude and metal prices. In January, the company said it intended to complete "significant" transactions to reduce debt, which stood at $20.4 billion at the end of 2015. Chief Executive Officer Richard Adkerson also made it clear that any operation, in full or in part, could be sold.
Core Assets
In February, Freeport announced an agreement to sell a $1 billion stake in its Morenci mine in Arizona, which it considers one of its five core assets. The others are Grasberg in Indonesia, Cerro Verde in Peru, El Abra in Chile, and Tenke Fungurume in the Democratic Republic of Congo.
Freeport has been approaching potential investors about buying minority stakes in various asset packages, people with knowledge of the matter told Bloomberg. The packages include combinations of South American, U.S., and African mines acquired when the company bought Phelps Dodge Corp. in 2007.
Management has been under pressure from activist investor Carl Icahn, who said last year he wanted the company to cut costs, including executive pay. In December, Freeport announced that its co-founder and chairman Jim Bob Moffett was stepping down.

Freeport has been hit hard in the past two years by plummeting prices for the commodities it sells. While benchmark U.S. crude has gained more than 15 percent this year, the price still is more than 50 percent lower than it was two years ago, while copper futures in New York have fallen 27 percent.
The company is expected to post a first-quarter loss, excluding one-time items, of 17 cents a share, according to the average of 17 estimates tracked by Bloomberg. Revenue will be $3.52 billion, according to the average estimate, compared with $4.15 billion a year earlier.
Freeport gained 53 percent in the first quarter in New York trading, compared with a 2.2 percent gain for copper and 3.5 percent for oil.
(The company scheduled a conference call for 10 a.m. New York time. To dial in, call +1-800-403-5770, or outside North America +1-706-679-8487. The conference ID is: 84824072)
Before it's here, it's on the Bloomberg Terminal.
LEARN MORE