France's Election Could Be Decided Six Months Early
by and
Polls suggest Hollande doesn't stand a chance of re-election

The Republicans have 11 declared candidates plus Sarkozy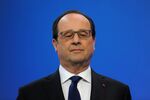 France's next president won't take office until May next year, but voters will have a pretty good idea who their next head of state will be a lot sooner than that.
With President Francois Hollande's prospect of re-election looking increasingly remote, the battle for the main opposition's nomination in November is shaping up as the real contest. That's why the race has already drawn 11 candidates, including two former prime ministers, with an ex-president, Nicolas Sarkozy, hovering undeclared on the sidelines.
"They're all sure the right will win the presidential election, so even those who can't prevail are running as a way of positioning themselves in a future government," said Bruno Cautres, a political analyst at the Cevipof research institute in Paris. "The thinking is: whoever wins the primary wins power."
One year before the first round of the presidential vote, multiple polls show that all the main contenders from the opposition Republicans would beat Hollande in the first round of the election and then go on to face-off against -- and defeat -- far-right leader Marine Le Pen two weeks later. The two-step election is scheduled for April 23 and May 7, 2017. The Republican primaries will be held Nov. 20 and 27 this year.
Crowded Field
In addition to ex-premiers Alain Juppe and Francois Fillon, two former Sarkozy ministers are running as well as no-hopers like "rogue" lawmaker Jacques Myard -- dubbed "the French Donald Trump" by Le Parisien newspaper. Sarkozy, currently president of the party he renamed last year, has yet to make his own ambitions official, though his return to politics from retirement in late 2014 was widely seen as the first step in a bid to reclaim the office he lost in 2012.
"There's a nine out of 10 chance that you'll be electing the next president of
the republic in November," one contender, 47-year-old Bruno Le Maire, told supporters at a campaign event in Brittany this month.
Juppe is the frontrunner. A prime minister in the 1990s remembered mostly for triggering France's last major general strike with his attempts at benefit reforms, he would be almost 72 by the time he took office. Now mayor of wine capital Bordeaux near the Atlantic coast, he declared his candidacy in the summer 2014 in an attempt to get ahead of 61-year-old Sarkozy, who announced his return weeks later. 
Like Hollande's Economy Minister Emmanuel Macron, who started his own centrist movement this month, Juppe is attracting support from disaffected, pro-market Socialists as well as less hard-line members of the Republican camp. Juppe is the only candidate who would come out ahead of Le Pen in the first round of presidential voting, according to an Ifop poll for I-Tele released April 19. A separate Ifop survey shows the former protege of Jacques Chirac also leads among card-carrying Republicans.

Juppe's Pitfalls
The risk for Juppe is that by peaking early he'll become the focus of attacks from rivals inside and outside his party and struggle to maintain the breadth of his support when he's forced to define his position more clearly.
Le Pen's National Front has already turned its guns on him. Gilbert Collard, a lawmaker in the French parliament, calls him a "left-wing smuggler" while Louis Aliot, a Front representative in the European legislature, blasted Juppe for being a closet socialist.
"He is the preferred candidate of the left because he will endorse their social and economic choices," Aliot said.
The frontrunner will face a key moment later this year when Sarkozy unveils an official program for the party. While Juppe won't be bound to those policies, he will have to set out his views on proposals that Socialist supporters will balk at or risk alienating members of his own party, according to Cautres.
"That Juppe is on top of a bubble that will eventually burst isn't even a probability, it's a certainty," he said.
Republican Policies
If Juppe does falter, polls suggest that Sarkozy or Le Maire, a former agriculture minister, are the best placed to capitalize, though the former president remains unpopular with many voters.
In policy terms, there's little difference between the main Republicans. All want to slash public spending, with Sarkozy targeting 100 billion euros ($113 billion) of cuts in five years and Juppe and Le Maire looking at about 85 billion euros. All want to shift the 35-hour limit on the working week, though Juppe wants to negotiate new arrangements at the company level while Sarkozy plans to simply raise the cap to 37 hours.
The vigor of the Republicans' race offers a stark contrast to the situation among Hollande's Socialists, with potential challengers -- like the party's animal spirits -- dragged down by the president's stunningly bad poll numbers.
Socialist Slump
Hollande had a disapproval rating or 87 percent in the last Elabe poll and the disenchantment with his government's policies means that even possible alternatives like Prime Minister Manuel Valls or Lille Mayor Martine Aubry would be likely to lose in the first round. That would be a repeat of the party's historic humiliation in 2002 when many Socialist supporters backed Jacques Chirac in the second round to prevent the National Front taking power.
Neither Valls nor Aubry has even hinted at a challenge to Hollande this time around, while Macron, who's shown the most ambition of potential rivals, says he won't run against the president and may be geared more toward 2022.
"Most of the Socialists know this election is practically a lost cause so they won't even try to run," Yves-Marie Cann of Elabe said in an interview. "They're not about to enter a battle that's lost from the start."
It's not just the fact that the unemployment rate, at 10.3 percent, is roughly double that of the U.K. and Germany, or that France's economic growth has consistently lagged its peers under Hollande's stewardship. Polls show that French voters, including Socialists, have simply lost faith in his ability to lead the country.
"Unless there's a miracle, there will be a change of government," Socialist Paris Mayor Anne Hidalgo told VSD magazine last week.
Before it's here, it's on the Bloomberg Terminal.
LEARN MORE