Deutsche Bank Board Erupts Into Conflict Over Legal Expenses
by and
Deputy chairman cites `overshooting' by fellow board member

Lawyer Georg Thoma said to push for costly investigations
Deutsche Bank AG's mounting legal costs led to open conflict on the supervisory board, with the deputy chairman publicly criticizing another member, Georg Thoma, for going too far in probing potential wrongdoing.
"Thoma increasingly faces criticism for his overzealousness and judicial self-fulfillment," Alfred Herling, a labor representative on the 20-member supervisory board, was cited as saying by Frankfurter Allgemeine Sonntagszeitung. "He is overshooting by calling for ever broader investigations and deploying even more lawyers."

Deutsche Bank Chairman Paul Achleitner, who has known Thoma for decades, tapped the Shearman & Sterling LLP lawyer in 2013 to help improve controls and work through the company's numerous cases of misconduct. The bank's costs and provisions for fines and lawsuits have topped 12 billion euros ($13.5 billion) since then, wiping out profits in those years and weakening the bank's capital ratios.
Herling, reached by phone on Monday, confirmed the comments attributed to him by the newspaper and said he had nothing to add. Thoma and Shearman & Sterling didn't respond to requests for comment. A spokeswoman for Deutsche Bank declined to comment.
Thoma, who leads a committee that monitors and analyzes the bank's legal risks, has become isolated from other board members, according to two people familiar with the matter. His relationships came under strain after he started to investigate links between fellow board members and Deutsche Bank's legal proceedings, said one of the people, who asked to remain anonymous discussing internal matters.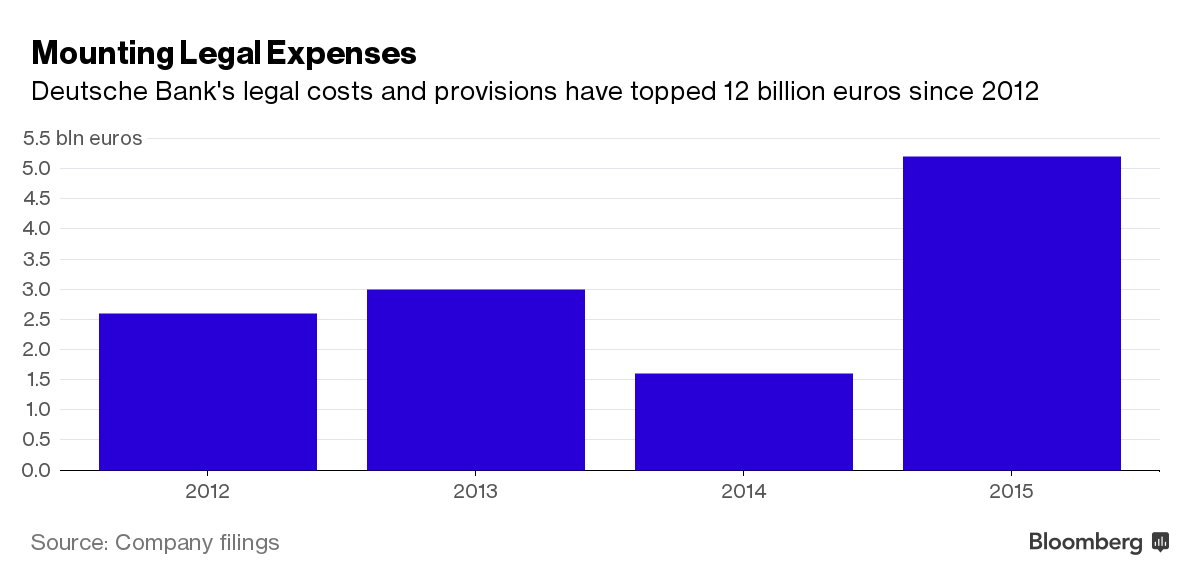 Deutsche Bank's shares slumped 4.6 percent to 16.03 euros at 4:16 p.m. in Frankfurt. They have dropped about 29 percent this year, while the Bloomberg Europe Banks and Financial Services Index slipped 17 percent.
The costs for Thoma's investigations are "no longer proportionate," Frankfurter Allgemeine cited Herling as saying. The internal probes relating to the supervisory board may have cost 14 million euros in legal fees for 2014 alone, said one of the people familiar with the probes.
Achleitner and Thoma have clashed in front of other supervisory board members on strategic issues as well as small formalities, the people said. Friction arose as Thoma sought to investigate potential links between individual board members and some 11 legal cases starting in 2014, one of the people said.
The supervisory board is responsible for overseeing operations and appointing executive board members, who run the company.
The investigations have handicapped Deutsche Bank, Frankfurter Allgemeine reported, citing unidentified officials at the company. The newspaper cited board member Henning Kagermann as saying that while the bank needs to be diligent in working through its legal issues, it also has to able to move on and focus on its future.
Qatari Support
"We've been slow to settle quite a few things," co-Chief Executive Officer John Cryan said at an investor conference in London last month, without referring to the board. He's said previously that he would personally seek to resolve outstanding legal matters.
Achleitner couldn't be reached for comment. The 59-year-old last month won public support to stay on as chairman from one of Deutsche Bank's biggest shareholders, former Qatar Prime Minister Sheikh Hamad bin Jassim bin Jabr Al Thani. The public endorsement followed a March report by Germany's Manager Magazin saying that Sheikh Hamad was against Achleitner running for another term, when his contract expires next year.
The dispute is also a blow to the friendship between Achleitner and Thoma. Both men worked on the privatization of eastern German chemicals industry after the fall of communism and Achleitner's wife, Ann-Kristin, gave a speech in 2005 congratulating Thoma on his award of an honorary doctorate by the European Business School in Reichartshausen, Germany.
(An earlier version corrected reference to Thoma's current job.)
Before it's here, it's on the Bloomberg Terminal.
LEARN MORE