Trump Ridicules Cruz-Kasich Alliance Against Him
The Republican front-runner had choice words for the pact between his rivals.
by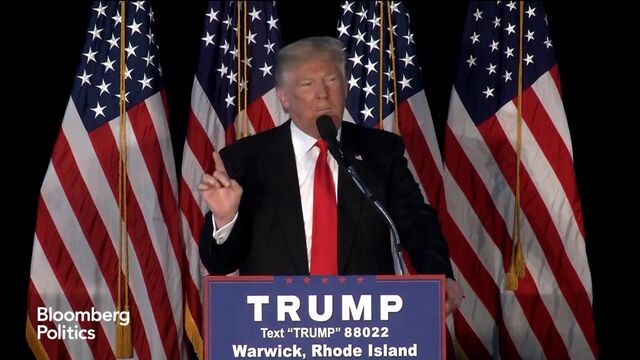 Republican presidential candidate Donald Trump did not have kind words for the deal struck between Ohio Governor John Kasich and Texas Senator Ted Cruz, slamming their political alliance that seeks to derail his candidacy as "pathetic."
"You know the funny thing? They made a deal," Trump told approximately 3,500 supporters Monday at a rally in West Chester, Pennsylvania. "How weak is that? How pathetic is that?"

On Sunday evening, the campaigns of Cruz and Kasich revealed a divide-and-conquer strategy against Trump in three primary states. In exchange for Cruz agreeing to forego campaigning in Oregon and New Mexico, Kasich said he would not spend time on the ground in Indiana, a state crucial to Trump's prospects of obtaining the 1,237 delegates needed to secure the nomination.
While Cruz has frequently come under Trump's fire over the past several weeks of the campaign, the billionaire businessman ratcheted up his attacks against Kasich on Monday, lambasting the way he eats. He doubled-down with the criticism in West Chester, along with other lines.
"Lehman Brothers almost brought down the country—[Kasich] was a managing director," Trump said. "What the hell are you doing running for president? It almost brought down the country."
He was equally unsparing of his rival from Texas. "Cruz is in a free fall," Trump said. "He doesn't act well under pressure. He's like a basket case."
Trump is poised to head into July's Republican convention in Cleveland, Ohio, leading in the popular vote and pledged delegates, but he could still come up short of the requisite 1,237. Cruz and Kasich are both hoping to become the nominee at a contested convention should Trump not be able to reach that number. 
At recent rallies, Trump has boasted that he will clinch the nomination on the first ballot, when most delegates are bound to vote for the candidate that won their respective states. "We're going to win on the first ballot," Trump predicted in West Chester.
Despite his assurances, his campaign has made a concerted effort to bolster his delegate operation, making a series of hires to help organize a delegate-gathering strategy.
On Monday, his new team's efforts were evident. Trump volunteers distributed a flyer to all attendees at the Pennsylvania rally that contained a list of delegates Trump wants his supporters to vote for on Tuesday. Earlier on Monday, newly hired aide Paul Manafort held a conference call with the delegates, the campaign said.
Pennsylvania delegate rules stipulate that the candidate who wins the state's Republican primary receives 17 delegates, but the state's remaining 54 delegates are elected directly by the voters and can vote at the convention for whichever candidate they choose. For that reason, Trump and his rivals are putting forth slates of delegates who will be supportive of their candidacies at the party convention.
In West Chester, Trump played up his Pennsylvania roots, praising his alma mater, the Wharton School of Business at nearby University of Pennsylvania. He also praised The Hill School, a nearby boarding school where his eldest two sons Don Jr., 38, and Eric, 32, attended.
"They did a great job with my boys," Trump told the crowd. "Or at least—I think they did."
Trump had more Pennsylvania campaign stops planned for Monday, and is expected to win the state's primary, along with those being held in Rhode Island, Delaware, Maryland, and Connecticut. 
Before it's here, it's on the Bloomberg Terminal.
LEARN MORE