China Stocks Fall to Lowest in Month on Commodity Futures Curbs
Bloomberg News
Commodity exchanges boost margin requirements on more products

Improving economic data lower odds of further monetary easing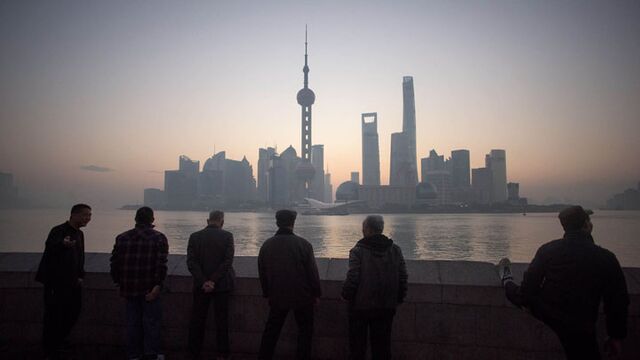 China's stocks fell, extending the biggest weekly decline in almost three months, after commodity exchanges moved to cool trading in raw materials and signs of accelerating economic growth reduced odds of further easing of monetary policy.
The Shanghai Composite Index slipped 0.4 percent, led by material companies. Commodity exchanges in Zhengzhou and Dalian announced late Friday that they will raise margin requirements on futures contracts of cotton and thermal coal, following similar moves on steel reinforcement-bar and iron ore contracts earlier in the week. The yuan weakened for a fourth day in Shanghai for the longest stretch of losses in two months.
Last week's 3.9 percent plunge for the Shanghai Composite broke the calm in China's markets that had prevailed since the authorities succeeded in ending a 23 percent rout in January. Turnover continued to slump, with Shanghai trading volumes 41 percent below the 30-day average. Economic gauges from four providers all increased in April from March, while sub-indexes for employment showed stronger demand for workers, spurring analysts to pare expectations for additional monetary easing.
"The boom in the commodity markets isn't a good thing for stocks as that will distract some investors and divert money away from the stock market," said Wu Kan, a fund manager at JK Life Insurance in Shanghai. "The market will be in a fluctuating mode after the recent selloff," said Wu, who is keeping his equity allocations at about 40 percent of assets.

The Shanghai index dropped to 2,946.67 at the close, the lowest level since March 29. The CSI 300 Index declined 0.4 percent. Hong Kong's Hang Seng China Enterprises Index fell 1.5 percent, while the Hang Seng Index lost 0.8 percent.
A gauge of material stocks in the CSI 300 slid 0.7 percent for the steepest loss among 10 industry groups. Aluminum Corp. of China Ltd. slumped 1.4 percent, while China Minmetals Rare Earth Co. dropped 3.8 percent.
The Zhengzhou Commodity Exchange will raise the minimum margin rates for cotton futures contracts to 7 percent from 5 percent of contract value from settlement on April 26, according to a statement on the exchange's website. The margin requirement of thermal coal and rapeseed meal contracts will both be increased to 6 percent from 5 percent. Earlier last week, exchanges in Shanghai and Dalian raised margin requirements for steel reinforcement-bar and iron ore contracts in a bid to cool the recent frenzy on futures trading that's led by steel rebar.
Economic Data
"The fact that trading volume for steel rebar contracts was at 223 million tons of rebar last Thursday, more than China's full-year production of steel rebar, raised concerns about the repeat of boom-bust scenario seen last year in China's equity market," analysts at Oversea-Chinese Banking Corp. wrote in a note on Monday.
Two indexes published by the China Academy of New Supply-side Economics picked up for a second month. The Minxin manufacturing index rose to 46.9, the highest in a year, while the non-manufacturing gauge increased to 44.2 from 40.1 in March. Market News International's business confidence indicator rose to 50.5 in April from 49.9 in March. Readings above 50 signal the environment is improving and those below indicate conditions are deteriorating.
Economists now see the central bank keeping rates on hold, leaving the benchmark one-year lending rate at a record low of 4.35 percent through the third quarter before cutting it to 4.1 percent in the fourth quarter, according to an April 15-20 survey by Bloomberg.
Construction machinery maker Zoomlion Heavy Industry Science and Technology Co. paced losses for industrial shares, sliding 0.7 percent after saying its first-quarter loss widened to 660 million yuan ($102 million).
The yuan weakened 0.09 percent against the dollar after the People's Bank of China set the reference rate 0.34 percent lower at 6.5120, the lowest level since March 28.
— With assistance by Shidong Zhang
Before it's here, it's on the Bloomberg Terminal.
LEARN MORE