Style
The Best Cufflinks: 24 New Ways to Liven Up Your Suit
From your favorite pet or critter to precious stones and diamonds, a range of cufflinks for any event.
By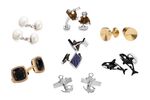 It's really the small things that make a difference: cufflinks, shoe laces, socks, a tie bar, or a pocket square are just a few tiny details that can change a simple suit into a distinguished outfit. They say to the world, "This person cares about the way he looks."
Cufflinks in particular get a bad rap, though, because they can seem gaudy or overly formal. They don't have to be—you can wear a French cuffed shirt to the office or an evening event, and you can wear casual cufflinks to downplay any perceived stiffness. Here are 24 cufflinks that you can wear to any occasion. 
Classic 

You can never go wrong with a pair of classic circular or square-shaped cufflinks. They're simple, sleek, and handsome. These are some new ones that will last a lifetime. 
Appropriate for: any time, any place. 
High-End

These are for special occasions—if you're looking for a good splurge or gift, these cufflinks include gold and precious stones.  
Appropriate for: a wedding. Specifically, your wedding. 
Novelty

You can get silly with your cufflinks, too, but don't try too hard. They are an easy way to show off a little bit about yourself, and since it's such a small detail, only those who notice will appreciate it. Schools, sports teams, and hobbies are all good things to think about when looking for new fun ones. 
Appropriate for: family gatherings, casual special events, and game day. 
Animals 

A pair of expensive-looking animal cufflinks paired with a well-tailored wool suit will always get compliments.  
Appropriate for: special occasions when you have to make conversations with strangers. 
Before it's here, it's on the Bloomberg Terminal.
LEARN MORE