Bass Said to Start Separate Fund for China-Related Trades
by
Bass has said China banks may see losses worse than subprime

Manager is said to plan calls with investors in coming days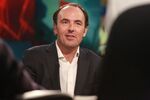 Kyle Bass, the hedge fund manager predicting massive losses for Chinese banks because of nonperforming loans, is raising money to start a dedicated fund for bets in the country, according to a person with knowledge of the matter.
Bass, the founder of Dallas-based Hayman Capital Management, will be holding calls with investors over the next few days to provide more details, said the person, who asked not to be named because the matter is private. As of mid-February, Bass already had about 85 percent of his main fund's portfolio in China-related trades, he said at the time.
Bass told investors earlier this year that China's banking system may see losses more than four times those suffered by U.S. banks during the financial crisis, though analysts from China International Capital Corp. and Macquarie Securities have said his estimate overstates the real situation. The International Monetary Fund this month estimated China may have $1.3 trillion in loans extended to borrowers that don't have sufficient income to cover interest payments, with potential losses equivalent to 7 percent of the country's gross domestic product.
Bass declined to comment on the fundraising, which was first reported by CNBC's Scott Wapner. Wapner said on Twitter that the fund will seek to take advantage of nonperforming loans and currency devaluations, citing unnamed sources.
A first round of money raising for the new fund is scheduled to close July 1, the person said.
Bass, 46, told investors that this week's investor calls will contain "new and critical data" regarding the bet, Wapner said in his tweet, citing a letter to investors.
Before it's here, it's on the Bloomberg Terminal.
LEARN MORE