China's Biggest Banks Stand Exposed After Profit Buffers Eroded
Bloomberg News
Profit outlooks depend on rules on loan-loss provisions

Big-five banks to report first-quarter earnings this week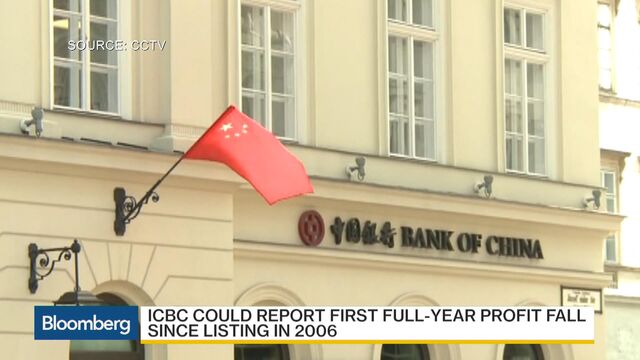 China's biggest banks stand exposed to their first annual profit declines in more than a decade.
That's because lenders such as Industrial & Commercial Bank of China Ltd. and Bank of China Ltd. have less room to smooth out their earnings after letting provision coverage for bad loans -- a key swing factor in earnings reports -- fall close to the regulatory minimum.
With the largest lenders set to release first-quarter numbers this week, the big question is: Will the government come to their rescue soon by cutting the mandatory minimum for their bad-loan provisions, currently set at 150 percent of existing nonperforming loans?
"Some big banks are probably torn between whether to breach the 150 percent threshold or report a profit decline," said Richard Cao, a Shenzhen-based analyst at Guotai Junan Securities Co. "For the first quarter, they can still maneuver a bit by cutting costs here and there, and end up with zero profit growth and still maintain the minimum NPL coverage ratio -- but for the full year nobody can achieve both."

China's cabinet has discussed lowering the ratio and the China Banking Regulatory Commission would decide the timing and magnitude of any reduction, people familiar with the matter said in February. Some big banks have used a ratio of about 120 percent for their 2016 budgeting, according to the people.
Counter-Cyclical
The economy's slowdown may encourage the government to loosen as a counter-cyclical measure. Still, relaxing standards when the banking system is under stress from deteriorating asset quality could "raise questions about the robustness of the regulatory regime," Fitch Ratings said this month. Banks' nonperforming loans are at the highest in a decade.
"It's been very hard for us to do the first-quarter earnings forecasts with some key variables still unknown" said Hou Wei, a Hong Kong-based analyst at Sanford C. Bernstein & Co. "The bad-loan coverage is the biggest uncertainty -- we don't know whether it will be cut or has been cut, and to what level."
Without any change to the bad-loan coverage rules, some of the bigger banks could report profit declines for the first quarter, according to Hou. At BNP Paribas SA, analyst Judy Zhang said this month that while the lenders may report first-quarter gains they will find it hard to sustain them without a lower coverage ratio.
Slowing economic growth and rising nonperforming loans are undermining more than a decade of annual profit gains at Chinese lenders and hurting their ability to return money to shareholders. Combined profits at the top five banks may drop 3 percent in 2016, the first dip in data going back to 2004, according to analysts surveyed by Bloomberg.
Bad Options
The CBRC has warned bankers that they could lose their jobs if they fail to control risks as assessed by indicators including bad-loan coverage ratios. At the same time, "nobody wants to be the first to report a profit decline after so many years of growth," said Cao, of Guotai Junan.
The five banks reported profit gains of between 0.14 percent and 1 percent for 2015, the narrowest range since at least 2004 and down from a variation of almost 20 percentage points in 2010.
Tumbling Ratios
Four of the big five banks' bad-loan coverage ratios fell to just above the regulatory minimum of 150 percent by the end of last year even as they boosted the amount of money set aside as provisions. ICBC's ratio dropped to 156 percent from 207 percent in 2014, while Bank of China's slid to 153 percent from 188 percent. Agricultural Bank of China Ltd., which had the highest coverage ratio among the big banks, saw the level tumble to 189 percent from 287 percent.
For the banking industry as a whole, a 10 percentage point cut in the 150 percent minimum would improve earnings by 7 percent this year, BNP's Zhang estimated last year.
Investors' concerns that banks are understating the true level of soured loans have dragged valuations for the largest lenders' Hong Kong shares to an average of 0.63 times estimated book value, according to Bloomberg-compiled data.
"Investors have stopped trusting those padded numbers long ago," said Bernstein's Hou, talking about net income. "Whether profit growth is faster, slower, up or down, the valuation completely ignores it."
— With assistance by Jun Luo
Before it's here, it's on the Bloomberg Terminal.
LEARN MORE