Bombardier in Talks About Deal With New Iranian Airline
by
Chairman Beaudoin held discussions during visit to Tehran

Rival Airbus has already secured order for more than 100 jets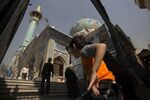 Bombardier Inc., the world's third-biggest planemaker, is in negotiations about a deal with a prospective new airline serving the tourist island of Qeshm in southern Iran.
Montreal-based Bombardier's Chairman Pierre Beaudoin held talks with officials from the Qeshm Free Zone during a recent visit to Tehran, a spokesman for the district at the southern end of the Persian Gulf said by telephone. The manufacturer confirmed that discussions in Iran are under way.
Bombardier makes a variety of aircraft models, spanning turboprops through regional jets to the C Series narrow-body designed to compete with short-haul planes from Boeing Co. and Airbus Group SE. Airbus has already secured a 118-jet, $27 billion sale to Iran, while Boeing started talks earlier this month.
"We've had continued discussions -- they're exploratory discussions -- with a number of people there," Bombardier spokeswoman Marianella de la Barrera said of Iran. She added that the company has "identified significant opportunities in the region with regards to the commercial aviation sector."
Planemakers are targeting Iran as the country seeks to renew its aging aircraft fleet and modernize archaic infrastructure following January's lifting of economic sanctions imposed over Middle Eastern country's nuclear program.
Qeshm Free Zone officials have held talks with several companies but are keen to strike a deal with Bombardier in the next two months, the spokesman said.
The Canadian company, which reckons Iran will need about 300 planes over the next decade, declined to comment on the topics or aircraft models discussed.
Iran Air may remain a sales prospect despite the Airbus purchase, with Chairman Farhad Parvaresh saying after that deal that the carrier would need at least 20 regional jets and that Bombardier had made a presentation.
Before it's here, it's on the Bloomberg Terminal.
LEARN MORE