Global Shares Extend Slump as Oil Sinks While Yen, Gold Rebound
by and
Gauge of world equities caps longest drop since mid-February

U.S. natural gas retreats on outlook for milder weather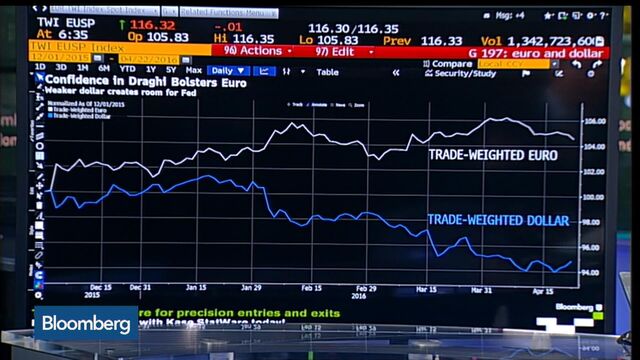 Shares retreated around the world, with a gauge of global equities notching up its first three-day losing streak since February, as crude oil fell from a five-month high. The yen strengthened, reflecting investor caution before central bank meetings this week in the U.S. and Japan.
The Standard & Poor's 500 Index fell for the second time in three days since climbing within 1 percent of its all-time high, and losses among energy producers led shares lower in Europe and in developing markets. U.S. crude futures slipped below $43 a barrel in New York and American natural gas futures slid from a 10-week high. The yen climbed 0.5 percent after tumbling on Friday by the most since 2014. Gold also advanced.

"The market is at an important juncture -- this is the third time in the last 15 to 18 months that we've been near record levels in major indexes," said Matt Maley, an equity strategist at Miller Tabak & Co. LLC in New York. "Earnings are going to be the big focus this week. People will be closely watching the BOJ meeting on Thursday."
Movements in the oil price set the tone in equity markets Monday, whipping shares around as energy investors assessed reports that Saudi Arabian Oil Co. plans to expand a major field while Iran increases output into an already saturated market. Attention will also turn this week to corporate results from blue-chip companies including Apple Inc., Amazon.com Inc. and Boeing Co. Investors will be on the lookout for shifts in monetary policy guidance from the Federal Reserve's meeting Wednesday, while most economists predict stimulus will be stepped up when the Bank of Japan convenes a day later.
Stocks
The S&P 500 retreated 0.2 percent to 2,087.79 as of 4 p.m. in New York, paring an earlier drop of as much as 0.7 percent. Energy shares capped their biggest drop since April 15 after closing Friday at their highest level since Dec. 1. Financial shares fell from a three-month high as Bank of America Corp. and Citigroup Inc. sank at least 0.6 percent.
The Stoxx Europe 600 Index dropped 0.5 percent, with Anglo American Plc, BHP Billiton Plc and Rio Tinto Group leading miners to the biggest decline of the equity benchmark's 19 industry groups. BP Plc dragged oil companies lower as crude slid. 
The MSCI Emerging Markets Index fell for a second day, losing 0.7 percent as indexes in India, Indonesia and Poland slid at least 0.6 percent. Investors added money to U.S. exchange-traded funds that buy emerging-market stocks and bonds for the 10th straight week, bringing the gains since mid-February to more than $11 billion.
In Asia, futures on stock gauges in Japan, South Korea and Australia signaled declines, while those on equities in Hong Kong foreshadowed gains. Nikkei 225 Stock Average futures slid 1.6 percent in Chicago amid the yen's revival.
Currencies
The yen strengthened 0.5 percent to 111.20 a dollar as traders dialed back bets on the degree of additional stimulus expected from the BOJ and its impact on the currency. The yen slid 2.1 percent on Friday as Bloomberg News reported the BOJ may consider helping Japanese banks lend by offering a negative interest rate on some loans.
"The BOJ is already so long into 'the reflationary trade' that it has to continue to deliver further accommodation for the time being," Goldman Sachs Group Inc. strategists Silvia Ardagna, Robin Brooks and Michael Cahill wrote in a report. Authorities will probably focus more on asset purchases than on rate policy when they meet this week and the yen will probably weaken to 130 in a year, they said.
The British pound climbed to a ten-week high after U.S. President Barack Obama urged U.K. citizens to vote to stay in the European Union in a June referendum. Since the official campaign started just over a week ago, pro-Europeans have taken the lead, with the Bloomberg Brexit Tracker putting the probability of an EU exit at about 20 percent.
The MSCI Emerging Markets Currency Index slipped 0.1 percent, falling for a third day. Mexico's Peso drove declines, losing 0.5 percent, followed by the South African rand, Philippine peso and South Korea's won.
Commodities
Oil fell from a five-month high in New York amid signs a global glut in the commodity will be prolonged as Middle Eastern producers boost supplies. West Texas Intermediate crude tumbled 2.5 percent to settle at $42.64 a barrel after gaining 55 cents to $43.73 on Friday, the highest close since Nov. 10.
The Bloomberg Commodity Index fell 0.2 percent as natural gas futures tumbled, while gold futures for June delivery jumped 0.7 percent to $1,239 an ounce.
Money managers more than doubled their wagers on a rally for agricultural commodities, pushing their holdings to the most since July, after betting on declines just last month. With drought in Brazil and flooding in Argentina threatening crops, the weather is getting variable enough for hedge funds to take notice.
Bonds
Treasuries due in a decade fell for a sixth day, pushing yields up three basis points, or 0.03 percentage point, to 1.92 percent. Rates on similar-maturity Japanese government bonds increased by five basis points to negative 0.06 percent, the highest level in more than two weeks.
The yield on Italy's 10-year bond climbed four basis points to 1.51 percent, their highest rate since Feb. 26. Yields on the securities jumped 14 basis points last week.
Rates of non-payment on emerging-market high-yield bonds have fallen every month this year to a four-month low of 3 percent in March, according to data compiled by Bank of America Merrill Lynch. That compares with defaults on U.S. high-yield bonds rising to 4.6 percent.
Before it's here, it's on the Bloomberg Terminal.
LEARN MORE