This Might Be the Biggest Problem With the ECB's Plan to Buy Corporate Debt
It could cause the exact opposite effect.
by and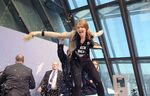 Front-running central bank government debt purchases have become a fledgling tradition in a world awash with unconventional monetary policy, with Jefferies LLC's Chief Market Strategist David Zervos describing the practice as traders taking "a rich asset and [making] it stupid rich."
Hans Lorenzen, European credit strategist at Citigroup Inc., brings up the possibility that the European Central Bank's corporate bond purchases might cause this perverse dynamic to run in the opposite direction, with investors in effect rushing to get out of a debt issue in anticipation of central bank selling.
The ECB announced in March that it would begin buying euro-denominated corporate bonds sold by investment-grade companies, sparking a huge rally in the region's debt and many questions about the technical details of the program. 
To that end, Lorenzen highlighted a key passage from the ECB's latest communique, released Thursday, on its corporate bond buying program. While the passage would have been unremarkable in any portfolio manager's disclosure documents, it stood out coming from monetary policymakers: "The Eurosystem will conduct appropriate credit risk and due diligence procedures on the purchasable universe on an ongoing basis."

This suggests to Lorenzen that the ECB might "be a seller" if it sees the credit of a particular company deteriorating. "'On an ongoing basis' suggests that the ECB might actively seek to reduce exposure, presumably in a scenario where an issuer is about to fall off the eligible list," he said in a note to his clients.
Cyprus serves as a precedent for the ECB prioritizing the governing principles of its program over its overarching goal of reflating the currency union. The central bank divested some of its holdings of the island nation's debt in March to avoid breaching guidelines on how much of any single security it can own.
While the ECB will presumably not be overly sensitive to widening spreads in issues it buys, potential downgrades by rating companies that would push select corporate debt out of its purchasable universe could "create a self-fulfilling prophecy," wrote the strategist.
"If the market perceives that the ECB is likely to be a quasi-forced seller in a particular name, then there will be a strong incentive to get out ahead of the ECB, leading to much wider spreads, which in turn weaken the access to market of the issuer and thus, in turn, increases the chance of the rating downgrade in the first place," Lorenzen explained.
As the ECB can own 70 percent of any corporate bond issue, any signs of deterioration in a given company's credit profile could spark severe dislocations in the market for its debt.
"While we would expect the ECB to step back from purchases of companies suffering from significant negative headlines, or a rising risk of a downgrade to a level outside of eligible credit status, we do not evisage a situation where the ECB would outright sell their holdings of such bonds, as this would be inconsistent with their treatment of periphery government bonds held via the [Securities Markets Program]," said Owen Callan, fixed income analyst at Cantor Fitzgerald.
"It would also be extremely difficult to find a buyer for up to 70 percent of an individual bond issue at the very moment when it is coming under negative ratings pressure, and would be akin to someone trying to catch a falling chainsaw, with the ECB likely crystallising significant losses in such a situation," he added.
Some finance professionals have pointed to the irony of the ECB leaning so heavily on credit ratings after previously expressing interest in reducing the financial system's "overreliance on external credit ratings" following the 2008 crisis.
"The most damning part, though, was that it will effectively subcontract the credit rating work to third parties—that is, the rating agencies," Suki Mann, founder of CreditMarketDaily.com, wrote of the ECB program. "Those very rating agencies that were hammered for not being impartial in the subprime and Lehman crises. So now the biggest bank of them all has put its own balance sheet at risk in the most incredible way, jumping into bed with the devil, so to say!"
Before it's here, it's on the Bloomberg Terminal.
LEARN MORE