business
Steel Slumps in China After Exchanges Move to Cool Speculation
Bloomberg News
Shanghai bourse increases steel futures transaction costs

Speculation turned `frothy' after prices hit successive highs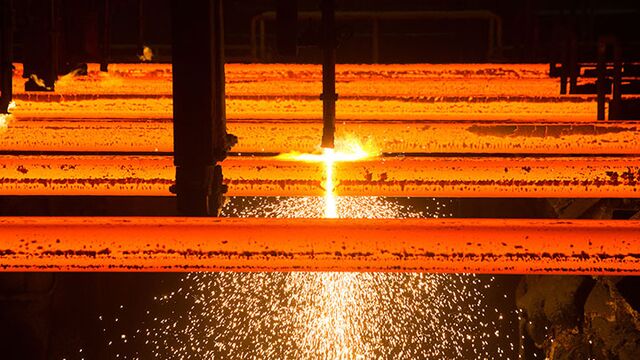 Steel futures slumped in China as exchanges moved to cool speculation after prices surged to the highest level since 2014 in record volume on Thursday.
Reinforcement bar used in construction closed 4.8 percent lower at 2,619 yuan ($403) a metric ton in Shanghai, snapping a four-day rally. Prices climbed 14 percent this week, the most since the contract started in 2009, and are up 47 percent this year. Hot-rolled coil slid 4.6 percent to 2,817 yuan a ton.

The Shanghai Futures Exchange increased transaction fees while the Dalian Commodity Exchange raised iron ore margin requirements. The bourse in Dalian also tightened rules on what it called abnormal trading, which now includes frequent submission and withdrawal of orders and self-trading. Iron ore futures have climbed 16 percent this week, the most since trading started in 2013.
"Speculation had turned frothy with prices pulling new highs every day this week, so the exchanges rushed to raise trading costs and take measures to cool overheated sentiment," said Gao Xuefeng, an analyst at Sinosteel Futures Co. in Beijing. "But there are still reported shortages in some areas, so the market remains very bullish," Gao said in a note on Friday.
Inventories Slump
Steel stockpiles are dwindling in China as the property market recovers, the economy stabilizes and policy makers vow to bolster growth. Inventories of reinforcement bar contracted for a sixth week in the period to April 15, shrinking 6.8 percent, in the biggest drop since October 2014, according to Shanghai Steelhome Information Technology Co.
Mills in China are responding to the price rally by boosting production, churning out more metal in March than any month on record. The jump in prices in 2016 follows five years of declines and offers relief for the world's largest steel industry, which has been grappling with overcapacity, losses and forecasts for a long-term drop in China's demand.
"Volatility and trading volume jumped as the economic and financial situation at home and abroad led to uncertainty and complexity," the Shanghai Futures Exchange said in statement Thursday, advising brokers to watch for risks and reminding "investors to cautiously judge the market and rationally invest."
Volume in reinforcement-bar futures for October delivery was 21.9 million contracts on Friday, just short of the record 22.4 million contracts a day earlier. The size of each contract is 10 tons.
— With assistance by Feiwen Rong
(
Updates to add new chart.
)
Before it's here, it's on the Bloomberg Terminal.
LEARN MORE