McDonald's All-Day Breakfast, Value Deals Help Fuel Comeback
by and
Same-store sales climb 6.2% for biggest gain in four years

CEO Steve Easterbrook says chain's turnaround is 'taking hold'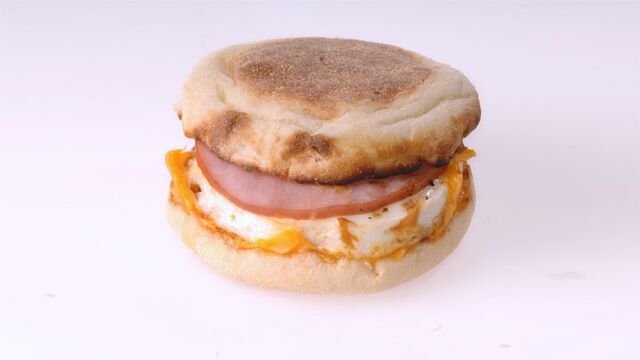 McDonald's Corp.'s turnaround is showing signs of gaining steam -- helped by all-day breakfast, value deals and lower commodity prices -- even as labor costs and other headwinds linger.
The fast-food chain posted a 6.2 percent gain in same-store sales last quarter, the best performance in four years, and earnings topped analysts' estimates.
The results show Chief Executive Officer Steve Easterbrook's plan to revive the world's largest restaurant chain is gathering momentum. Since taking the helm more than a year ago, he has revamped drive-thru ordering, tweaked kitchen operations and slimmed down the menu. The company also has reignited U.S. sales with all-day breakfast and McPick two-for-$2 and two-for-$5 deals.
"They're getting back to why customers fell in love with the brand," said Michael Halen, an analyst at Bloomberg Intelligence. "It's really just basic blocking and tackling."
As part of the overhaul, Easterbrook even changed the font on order receipts. That makes it easier for workers to read special requests from customers, improving accuracy.
Challenges Remain
Yet challenges remain for the burger chain. Companywide revenue still declined last quarter, the seventh straight drop, and higher labor costs are pressuring its profit margins. McDonald's also is embroiled in a dispute with the National Labor Relations Board over whether workers at its franchised restaurants qualify as company employees, a change that threatens to upend its business model.
McDonald's shares, which rose as much as 2.1 percent early in the trading day, were up just 0.1 percent to $125.87 as of 3 p.m. in New York. McDonald's had gained 6.5 percent this year through Thursday's close, compared with a 2.3 percent advance for the Standard & Poor's 500 Index.
While revenue dropped 0.9 percent to $5.9 billion in the quarter, that beat analysts' $5.81 billion average projection. Net income rose to $1.23 a share in the quarter, the Oak Brook, Illinois-based company said in a statement Friday. Analysts estimated $1.16, on average.

Profit is getting a boost from lower prices for ingredients, such as beef, and that trend may continue. The company said it expects its "grocery bill" of 10 commodities to drop by as much as 4.5 percent in the U.S. this year, a larger decline than the company predicted in January.
McDonald's, which gets about two-thirds of its revenue from international locations, also is seeking to draw diners overseas with new food and deals. In Germany, it's advertising a low-priced basics menu, along with new double-chicken burgers topped with honey mustard. The company's largest European markets, Germany, France and the U.K., are included in its international lead markets unit.
In March, McDonald's said it's seeking partners in Asia to accelerate its growth plans. The Big Mac seller plans to add more than 1,500 restaurants in China, Hong Kong and Korea in the next five years. The company also recently said it's trying to find strategic partners for Taiwan and Japan.
Same-store sales, which show the performance of McDonald's restaurants open at least 13 months, are considered a key indicator. The estimates were compiled by Consensus Metrix.
Sales by that measure increased 5.4 percent in the U.S. Analysts projected a 4.6 percent gain.
Same-store sales rose 5.2 percent in McDonald's international lead markets unit, which includes the U.K., Australia and Canada. Analysts estimated a 4.1 percent increase.

Comparable sales increased 3.6 percent in the high-growth markets. Analysts projected a 3.4 percent advance.
Same-store sales rose 11 percent in the foundational markets segment, lifted by a rebound in Japan. Analysts estimated a 6.2 percent gain.


"Our turnaround is taking hold," Easterbrook said in the statement. "The ongoing investments we're making in running great restaurants and delivering what matters most to our customers are beginning to yield sustained positive results."
Before it's here, it's on the Bloomberg Terminal.
LEARN MORE