Japan Stocks Jump on Report BOJ Considering Support for Banks
by and
Central bank may begin paying financial institutions to borrow

Topix caps second straight weekly gain, approaches bull market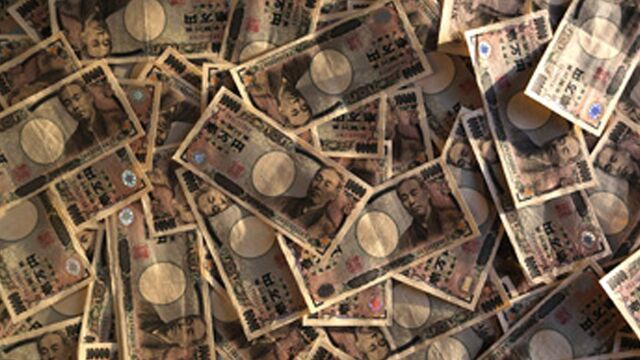 Stocks in Tokyo extended an 11-week high, capping a second straight weekly gain that has pushed the Topix index close to a bull market, after Bloomberg reported the Bank of Japan is considering steps to provide relief to financial institutions. Banks surged in afternoon trading.
The Topix rose 1 percent to 1,407.50 at the close in Tokyo, reversing losses from before the BOJ report. The measure ended the week 3.4 percent higher to take its gain the past fortnight to more than 9 percent. The Nikkei 225 Stock Average added 1.2 percent to 17,572.49. The yen weakened 0.8 percent to 110.32 per dollar.
The BOJ may consider helping financial institutions by offering a negative rate on some loans, according to people familiar with talks at the central bank. Such a discussion could happen in conjunction with a decision to make a deeper cut to the BOJ's current reserve rate, which is already in negative territory, said the people, who asked not to be named as the matter is private.
"This would mean banks can receive money for borrowing from the Bank of Japan," said Masahiro Ichikawa, a senior strategist at Sumitomo Mitsui Asset Management Co. "It's a plus for bank profitability as it eases the burden from the BOJ's negative interest rates."

Banks led gains among the Topix's 33 industry groups, with Mitsubishi UFJ Financial Group Inc. surging 6.6 percent, while Sumitomo Mitsui Financial Group Inc. climbed 4.4 percent.
Brokerage Nomura Holdings Inc. climbed 4 percent and real-estate developer Sumitomo Realty & Development Co. advanced 4.6 percent. Dai-ichi Life Insurance Co. added 2.9 percent.
Great Expectations
The report came as investors look ahead to next week's BOJ meeting on monetary policy, with 23 of 41 analysts surveyed by Bloomberg expecting an expansion of stimulus. Nineteen of the analysts predicted the central bank will increase purchases of exchange-traded funds.
The Topix has rallied almost 18 percent since reaching a low on Feb. 12, close to the 20 percent level that would technically define a bull market. Gains have been bolstered by a recovery in oil prices, signs of stabilization in China's economic slowdown and expectations the BOJ will continue efforts to support growth.
Futures on the Standard & Poor's 500 Index rose 0.2 percent after the underlying gauge fell 0.5 percent on Thursday, the most in two weeks, from a four-month high. Negative earnings from Verizon Communications Inc. and others overshadowed gains in companies that beat expectations. Google parent Alphabet Inc. and Microsoft Corp. reported earnings after the close that missed analyst estimates.
Tech Earnings
Sony Corp. joined its U.S. tech peers in reporting earnings that missed estimates on slowing global demand for smartphones. Annual operating income was 9.4 percent below its own forecast after the firm took a 59.6 billion yen ($544 million) impairment charge in its image-sensors business, which makes parts used in smartphone cameras. Shares tumbled 1.7 percent.
Mitsubishi Motors Corp. sank 14 percent, plunging for a third day, after revealing it manipulated fuel-economy tests to mislead consumers. Shares are down 42 percent since the announcement and have wiped out 354 billion yen ($3.3 billion) in market value.
Before it's here, it's on the Bloomberg Terminal.
LEARN MORE