GoPro's Woodman, Formerly Best Paid CEO, Got $805,217 in '15
by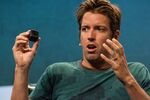 Nick Woodman, the founder of GoPro Inc., made $805,217 last year, a sharp decline from the $287.2 million he was awarded in 2014.
Almost all of Woodman's 2015 compensation at the camera-maker was in salary, $89 was for corporate merchandise. The former billionaire topped the 2014 Bloomberg Pay Index thanks to an award of 4.5 million restricted shares. The value of his pay collapsed to $65.7 million at Friday's close as GoPro shares have plummeted 78 percent since its 2014 fiscal year end, when the index valued the stock award.
The company's first-quarter sales are estimated to plunge 53 percent to $169.1 million from a year earlier, according to the average of analysts' estimates, amid slumping demand for GoPro's action cameras, Jitendra Waral, a senior analyst at Bloomberg Intelligence, said in a report.
Jeff Brown, a spokesman for San Mateo, California-based GoPro, declined to comment. Woodman is the chairman and chief executive officer of GoPro.
Before it's here, it's on the Bloomberg Terminal.
LEARN MORE