GM Director Girsky, Put on Board After U.S. Bailout, to Leave
by
Jane Mendillo, retired Harvard fund CEO, to replace him

Girsky also had served as executive, adviser at automaker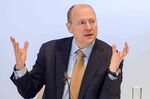 Steve Girsky, the former Wall Street analyst who joined General Motors Co.'s board at the behest of the UAW retiree health-care trust after the automaker's 2009 bankruptcy, will retire as a director in June.
He will be replaced by Jane Mendillo, the retired president and chief executive officer of Harvard Management Co., which oversees Harvard University's endowment fund, the automaker said in statements Friday. Girsky, 53, is leaving after almost seven years on the board. He also served as GM vice chairman, oversaw its OnStar telematics business and made one of the company's several attempts to fix its troubled business in Europe.
Girsky, a former Morgan Stanley analyst, had a key role in reorganizing GM after it exited bankruptcy in July 2009 and then sold shares to the public in November 2010. CEOs Ed Whitacre and Dan Akerson came from the telecommunications industry, so both relied on Girsky's knowledge of the auto industry. When Mary Barra got GM's top job and Dan Ammann was promoted to company president in January 2014, Girsky stayed on as an adviser and a board member.
"The GM that exists today is a much different and stronger company than it was when I first joined the board," Girsky said in a statement. "There have been many milestones and accomplishments that I've been proud to be a part of along the way, including GM's emergence from bankruptcy, improved UAW relationship and the continued comeback of the European business."
GM posted record net income in 2015 and followed that up by reporting Thursday that first-quarter earnings more than doubled to $2 billion, including almost reaching break-even in Europe. With GM stabilizing its European and South American businesses, the company said it expects to post record profit again this year.
Girsky managed to move from board member into top executive jobs, including chairman of GM's Adam Opel AG German unit. He held the post for two years but was unable to stop what has been 15 years of losses in Europe. He was involved in developing Drive Opel 2022, the plan to fix the business unit, which is on pace to break even this year.
He also played a role in a failed investment in French automaker Peugeot SA. GM paid about $400 million for a 7 percent stake and eventually wrote the investment down and sold it off.
Before it's here, it's on the Bloomberg Terminal.
LEARN MORE