Policy Makers Defend ECB Independence After German Attacks
by
Lagarde, Dijsselbloem add to debate on central-bank autonomy

ECB head Draghi says blaming policy weakens its effectiveness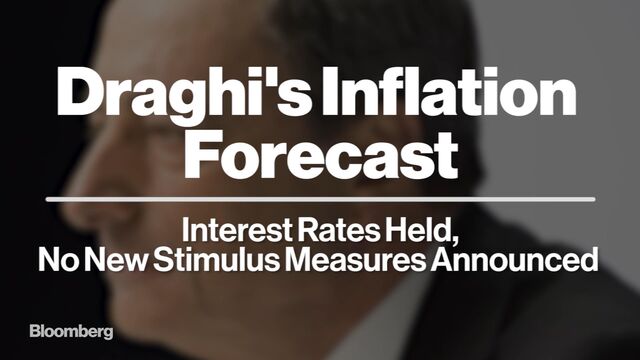 Policy makers rallied to defend the European Central Bank's independence a day after President Mario Draghi hit back at German critics of his monetary strategy.
"Mr. Draghi has to do his work in independence," Eurogroup President Jeroen Dijsselbloem said in Amsterdam on Friday before a gathering of European finance ministers and central bankers. "For politicians to criticize the ECB that would mean political influencing, and I'm not a fan of that."

Simmering German discontent over the ECB's ultra-low interest rates erupted this month when Finance Minister Wolfgang Schaeuble was reported as saying Draghi should share the blame for the rise of populist parties as his actions hurt retirement plans. While the two met over dinner in Washington, German criticism hasn't abated and Draghi warned on Thursday that questioning the central bank's credibility can undermine its effectiveness and lead to a need for more stimulus.
Draghi "has to take decisions that are good for the euro zone as a whole within his mandate," said Dijsselbloem, who is also Dutch Finance Minister. "This is exactly what the ECB is doing and the more we refrain from comments the more effective he can be."
IMF Agreement
The issue of central-bank independence in the face of growing pressure from politicians was one of the themes of the spring meetings of the International Monetary Fund and the World Bank this month in Washington. IMF Managing Director Christine Lagarde reaffirmed that on Friday.
"All central banks have to be independent in conducting their monetary policies," she told reporters in Amsterdam. "I think we all agree on that."
Even so, German criticism of the central bank's policies shows no sign of relenting.
Draghi's approach "is not a good remedy" and he should press the euro area's southern members to overhaul their economies, Michael Fuchs, a deputy leader of Merkel's Christian Democratic Union party, said in a Bloomberg Television interview.
"We can only tell our opinion, and our opinion is that the low interest rates did not really boost the situation," Fuchs said. "Without reforms, the situation in these countries will not get any better."
German Chancellor Angela Merkel too gave qualified backing to the ECB's autonomy on Thursday.
"That people in Germany are talking about ECB rates being higher in the past -- that this has certain effects -- I think is legitimate," she said in the Dutch city of Eindhoven. "That shouldn't be confused with intervening in the independent policy of the ECB, which I fully support."
Before it's here, it's on the Bloomberg Terminal.
LEARN MORE