Brexit Would Mean Scottish Independence in 2 Years, Salmond Says
by
Former first minister says Scots want to remain in EU

Salmond says Brexit vote a threat to Cameron's hold on power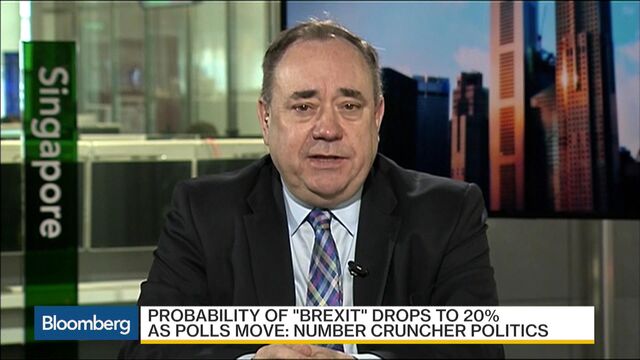 A vote by Britain to leave the European Union would lead to a successful referendum on Scottish independence within two years as Scots want to remain in Europe, former Scottish First Minister Alex Salmond said.
QuickTake Will Britain Leave the EU?
"If people are worried about the risk of leaving, then the anxiety for Scotland is much less because either way Scotland is going to end up staying in Europe," Salmond said in an interview in Singapore Friday.
Prime Minister David Cameron's campaign to stay in the EU pits him against members of his own cabinet, and has made the referendum a test of his leadership only a year after he secured an unexpected majority in the general election. Cameron is playing up the potential economic costs of a so-called Brexit rather than the benefits of remaining in the bloc -- repeating the negative strategy used to persuade voters to reject the 2014 referendum on Scottish independence.
Scots overwhelmingly favor remaining in the EU, and if Cameron fails to carry the day in the June 23 vote on an EU exit it would convince more Scots of the need for independence, Salmond said. Should Brexit succeed, Cameron would embark on a two-year negotiated exit, creating a time frame for a new referendum on Scottish independence, he said.
'Would Leave'
"If Scotland then voted for independence, at the end of the two-year period Scotland would just stay where it was, but represent itself independently, but the rest of the U.K. would leave the European Union," he said.
The British electorate is leaning toward the "remain" camp, according to public opinion surveys. The Bloomberg Brexit Tracker puts the odds that the "exit" side wins at about 20 percent. Even if Cameron carries the vote, the outcome may jeopardize his grip on power, Salmond said.
"I don't think he's going to last long if there is a vote to remain," he said. "And my reason for that is the nature of the divisions in the Conservative Party. The amount of bitterness is such that I don't see the credibility of the prime minister surviving the internal debate within the Tory Party."
Before it's here, it's on the Bloomberg Terminal.
LEARN MORE