Brazil Stocks' Strongest Driver Isn't Impeachment Hype After All
by
The link between commodities, Ibovespa is stronger than ever

Picking stocks based on impeachment outlook is trickier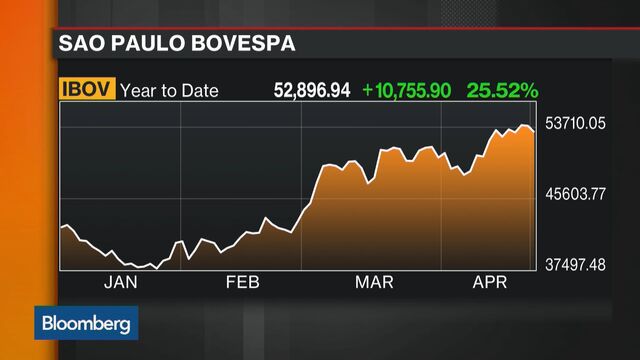 Lately, in Brazil markets, investors can be split into two camps: those who pick stocks based on the political turmoil and those who think that's crazy.
Turns out they're sort of both right, though one more so than the other. While the correlation between the Ibovespa and the impeachment of President Dilma Rousseff has been gaining strength this year, nothing drives the benchmark's stock moves quite so consistently as commodities, data compiled by Bloomberg show.
That the price of raw materials is still the steadiest factor in Brazilian equity markets makes sense. Commodities account for more than half the nation's exports, driving profits for a fifth of the Ibovespa's 61 members. But in a year dominated by a corruption scandal and the worst recession in a century, many investors are pinning their hopes for a turnaround not on a rebound in prices for iron ore and soybeans, but on a change in government.
"The impeachment euphoria is contagious," said Adeodato Volpi Netto, the head of capital markets at Eleven Financial Research in Sao Paulo. But for companies like state-run Petroleo Brasileiro SA, nothing's more important than the price of oil. "Crude prices will determine the company's survival. The same rational applies for mining companies and steelmakers."
The correlation between the Standard & Poor's GSCI Spot index, which compiles prices of 24 commodities in five sectors, and the Ibovespa is near its highest on record at about 50 percent, data compiled by Bloomberg show. The link has been positive and rising steadily since late 2008.

Investors trying to profit off expectations for a change in government face a rockier road. The correlation between news about Rousseff's impeachment -- a gauge measuring how much momentum the movement is gaining -- and the Ibovespa stands at 53 percent, after peaking at a record 71 percent in March, according to data compiled by Bloomberg. It's an imperfect science, though. The correlation was negative in three of the past 12 months, meaning that as the process gained steam, stocks actually fell.

The Ibovespa slid 0.5 percent to 53,343.57 at 11:37 a.m. on Friday, paring its year-to-date gain to 23 percent.
"The importance of raw-materials producers has decreased over time, but it's still high," said James Gulbrandsen, the chief investment officer for Latin America at NCH Capital in Rio de Janeiro. "Once the impeachment drama is over and commodity prices recover, the significance of those companies, which have lost so much over the past six years, will grow."
Before it's here, it's on the Bloomberg Terminal.
LEARN MORE