Five Things You Need to Know to Start Your Day
Get caught up on what's moving markets.
by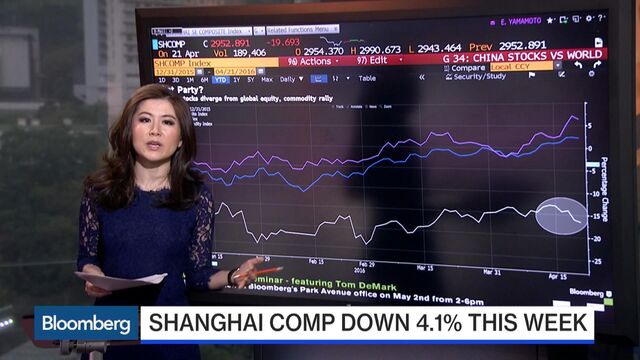 Want to receive this post in your inbox every morning? Sign up here
The Bank of Japan is looking to offer loans at negative rates, Wall Street bonuses to be restricted under a new proposal, and the great ball of Chinese money rolls into commodities . Here are some of the things people in markets are talking about today.
Bank of Japan eyes negative rate loans
The Bank of Japan cut deposit rates for banks in January into negative territory in an effort to spur lending. Now, according to people familiar with the discussions, the BoJ is considering offering banks loans with a negative rate in a fresh attempt to spur lending. The policy under discussion is not dissimilar to the European Central Bank's latest Targeted Longer Term Refinancing Operation (TLTRO-II) which will charge negative interest on loans to banks once they achieve a required level of lending growth. Stocks in Tokyo rallied and the yen dropped the most in seven weeks to trade at 110.43 to the dollar at 5:27 a.m. ET
Wall Street bonus pay restriction 
New rules proposed as part of the Dodd-Frank Act would mean that Wall Street executives would have to wait at least four years to collect their bonus pay, and could force those executives to return that money if their companies lose big. Bloomberg's guide to the new rules breaks down the type of firms that would be covered by the proposed restrictions, and when they are likely to come into force.
The great ball of China money rolls on
The rally in global equities has had one notable absentee - Chinese stock markets. The Shanghai Composite Index has fallen 3.9 percent this week, making it the worst performing of the 93 global benchmark gauges tracked by Bloomberg. There are many theories behind the drop, but the move does come at the same time as Chinese speculators have moved into a new market - commodity futures. The volume of business in previously unglamorous products such as rebar futures is astonishing, with contracts on 223 million tons of the steel product - equal to half of China's yearly production - changing hands yesterday alone. The move has caused prices to surge, and overnight, regulators to step in to try to cool the market.
Stocks drop, bonds mixed
Japanese markets aside, global equities are ending the week on a low note so far. The MSCI Asia Pacific Index fell 0.4 percent overnight, while in Europe the Stoxx 600 Index was 0.6 percent lower at 5:50 a.m. ET. S&P 500 futures were 0.1 percent lower after the index fell yesterday following disappointing earnings data. European sovereign bonds recovered some of their losses from yesterday, as Markit's composite Purchasing Managers Index showed confidence is still slow in returning to the euro area. U.S. Treasuries are headed for a second weekly drop as odds of further rate hikes by the Federal Reserve this year increase. 
Obama's Brexit intervention
Much to the dislike of the campaign for the U.K. to leave the European Union, U.S. President Barack Obama has intervened in Britain's Brexit debate, praising the EU and Britain's place within that institution. The increasingly bitter campaign seems to be swinging firmly in favor of the 'remain' camp, with the probability of a 'leave' victory dropping to as low as 20 percent. The pound has risen for a sixth day against the euro as concerns ease. 
What we've been reading 
This is what's caught our eye over the last 24 hours.
Before it's here, it's on the Bloomberg Terminal.
LEARN MORE