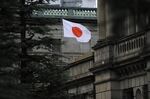 Subscribe to the Bloomberg Benchmark podcast on iTunes
Subscribe to the Bloomberg Benchmark podcast on Pocketcasts
Every week, hosts Tori Stilwell, Dan Moss and Aki Ito bring you a jargon-free dive into the stories that drive the global economy.
Japan's been having a tough time lately. Its central bank used unorthodox tools to jumpstart growth -- and has little to show for it. The country is closing in on deflationary territory. And now, the nation also has to worry about a strengthening yen, which has the potential to worsen both those issues. Dan and Tori discuss Japan's options, joined by Bloomberg reporter Toru Fujioka on the ground in Tokyo, and Jeff Young, co-founder and chief economist at DeepMacro LLC.
Before it's here, it's on the Bloomberg Terminal.
LEARN MORE