Wanda Privatization Pitch Comes With 12% Return Guarantee
Bloomberg News
Dalian Wanda seeking investors to buy 14.41% of property unit

Document shows property company to seek re-listing in China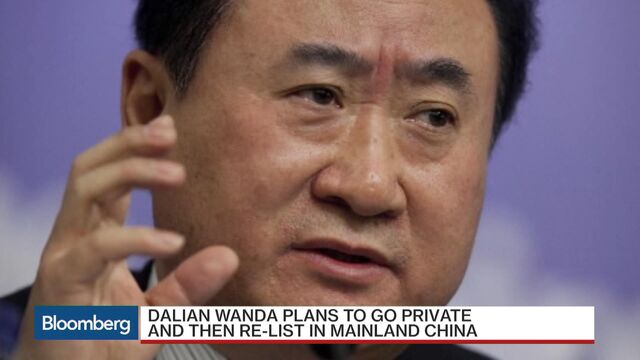 Billionaire Wang Jianlin is so confident he can make money for investors who back an effort to take his Hong Kong-traded property company private and re-list it in mainland China that he's willing to pay them if the plan goes awry.
Wang's Dalian Wanda Group is seeking investors to help purchase as much as 14.41 percent of Dalian Wanda Commercial Properties Co., according to a document sent to prospective backers. That figure represents the portion of the company not controlled by Wang and other mainland shareholders.
If the developer has not gone public on a mainland exchange by either Aug. 31, 2018 or two years from the Hong Kong de-listing, Wanda Group will buy back the shares at a level guaranteeing a 12 percent annual return for domestic investors and 10 percent for those overseas. To back its pitch, Wanda says valuations for some property companies listed on the mainland are more than triple those of comparable stocks traded in Hong Kong.
The proposal promises a "relatively large room for arbitrage" for investors given that the property arm's Hong Kong-listed shares are "seriously undervalued," according to the document, a copy of which was obtained by Bloomberg News.
Lofty Valuations
Wang joins a growing chorus of Chinese tycoons who are seeking more lofty valuations for their companies by moving their listings from Hong Kong or New York. Evergrande Real Estate Group Ltd. may consider going private and list in China given its chairman's view that the developer's valuation in Hong Kong is distorted, Citigroup Inc. said in an April 18 report. Still, the hurdles for such deals going through are high according to analysts, and the gap in valuations may not be as conclusive as Wanda's analysis suggests.
China-traded developers' average valuations of 29 times estimated full-year earnings, as cited by Wanda, is based on four companies engaged in managing free trade zones and industrial parks, while Wanda Commercial is a developer and mall operator. For a longer list of 18 China-listed developers that Wanda also includes in its pitch, the average ratio drops to 13.8 times.
The 10-company Hang Seng Properties Index trades at 11.45 times expected earnings, and that multiple falls to 6.5 times for a group of 53 Hong Kong-listed Chinese developers, according to data compiled by Bloomberg.
In some cases, the valuation discrepancy is reversed. Shanghai-listed Poly Real Estate Group Co. has a price-to-earnings ratio of 6 times, while its sister company, called Poly Property Group Co., is trading at 23 times in Hong Kong.
China Listing
Dalian Wanda, the privately held company controlled by Wang, Asia's richest individual, owned 50.8 percent of Wanda Commercial at the end of 2015, according to the company's annual report. The move to buy out Wanda Commercial, reported by the Wall Street Journal on Wednesday, comes after the parent company said on March 30 it was considering offering HK$48 or more for the developer's Hong Kong shares, which jumped 21 percent on the news. That would imply Wang is looking to raise about $4.26 billion. In July, Wanda Commercial Properties announced a plan to list on China's A-share market.
Alan Jin, a property analyst at Mizuho Securities Asia Ltd., said there's no guarantee the listing will happen.
"The government policy in China towards the private sector could switch," he said. "That's one risk."
Privatization 'Tactic'
Chinese developers could be using talk of privatization as a "tactic" to boost stock prices, Jefferies & Co. analyst Venant Chiang said in an interview. Ultimately, making the switch isn't simple and there are many good reasons for companies to keep their Hong Kong listings, Chiang said.
The valuation gap between mainland and Hong Kong shares has been narrowing. The Hang Seng China AH Premium Index has fallen to 129.73 from a high of 149.03 high last July. It has slipped 7.8 percent since the beginning of the year.
While Citigroup said a move to go private would be positive for Evergrande's shares, it cited challenges including a complex reorganization, difficulties in transferring ownership in offshore entities to the mainland, "gigantic" offshore debts and potential tax liabilities.
"We would not be surprised if Evergrande announces this intention and it becomes a 'positive overhang' on the share price, but practically the hurdles to the deal are high," the Citigroup analysts wrote.
— With assistance by Dingmin Zhang, and Frederik Balfour
Before it's here, it's on the Bloomberg Terminal.
LEARN MORE