pursuits
Venezuelans Face a New Threat – a Beer Shortage
By
Empresas Polar says it can't access cash it needs for imports

Low oil prices have cut government's supply of hard currency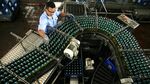 Venezuelans, already frustrated by repeated power cuts and water restrictions, may soon suffer a new ignominy -- a beer shortage.
Empresas Polar SA, the country's largest privately-held company and biggest brewer, said Wednesday that it will be forced to stop producing beer because it can't get the foreign currency it needs to purchase malted barley.
"We haven't been able to replenish inventory, and we only have malted barley until April 29," the company said in a statement published on its website. "Because of that, we're obligated to suspend the production of beer until we get access to the foreign currency necessary to procure the material." 
Venezuela is experiencing the worst recession in decades as the falling price of oil, which accounts for about 95 percent of foreign currency earnings, pushes international reserves to a 13-year low of less than $13 billion. In 2015, the economy contracted by 5.7 percent and is expected to shrink by an additional 8 percent this year, according to the International Monetary Fund. Inflation is projected to rise to nearly 500 percent.
With increasing power outages and water rationing already complicating President Nicolas Maduro's hold on power as he battles an opposition-controlled congress that has vowed to oust him, a beer shortage could be especially sensitive. Venezuela has the highest per capita rate of beer consumption in South America and comes in at number 24 in the world, Kirin Holdings Co. said in a report published last year.
High Consumption
Polar said it has asked the government to be able to acquire foreign currency through the recently revamped "floating" mechanism that last sold the U.S. currency for about 349 bolivars per dollar, compared with the official rate of 10.
"Since last year, we've been alerting the country to the grave situation we are facing, and we've also exhausted all of the options to take on debt with our foreign providers," the company said. "For Polar to be able to keep making products demanded by Venezuelans, it needs opportune and sufficient access to foreign currency."
Maduro in February called Polar's billionaire owner, Lorenzo Mendoza, a "thief" and a "traitor" and blamed the company for the country's economic woes.
(
Updates with per-capita beer consumption in fifth paragraph.
)
Before it's here, it's on the Bloomberg Terminal.
LEARN MORE