VC Bill Gurley Tells Startups to Beware of 'Dirty' Fundraising Terms
by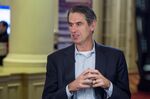 Bill Gurley, an influential venture capitalist who made an early bet on Uber Technologies Inc., sounded the alarm over what he described as a "fundamental sea-change in the investment community."
In a 5,700-word essay posted on his blog, Gurley described how a tighter venture capital market and a dearth of initial public offerings is forcing some startups to accept toxic deal terms. The Benchmark general partner advised companies to make cuts to achieve profitability or go public. He also said entrepreneurs should swallow their pride and agree to sell shares at lower prices, a dreaded practice known in the industry as a down round.

"A down round is nothing," Gurley wrote. "Get over it and move on."
Gurley's blog post takes a deep, analytical look at a painful shift being felt throughout Silicon Valley. Venture capital deals have been in decline since late last year, and startups have had to cut staff and reduce other costs to survive. The essay quickly caught the attention of top tech investors and startup chiefs, who described it on Twitter as a must-read.
One particular target of Gurley's post was a class of controversial legal provisions that are becoming more popular in private fundraising deals. He called them "dirty term sheets." In such deals, larger investors agree to give companies head-turning valuations and the cash they need in exchange for preferential treatment, such as more shares if a company's valuation drops or the ability to get their money back first after a sale. The provisions often harm other shareholders and deter future investors from buying in.
"Taking a terms-laden deal is like starting the clock on a time bomb. Your only option is to hit the IPO window as fast as possible," Gurley wrote. "Otherwise, the terms will eat you alive."
Before it's here, it's on the Bloomberg Terminal.
LEARN MORE