Under Armour Tops Estimates, Bucking Concerns About Slowdown
by
Stephen Curry basketball shoe helps fuel footwear sales

Chinese sales almost triple; company will add 120 stores there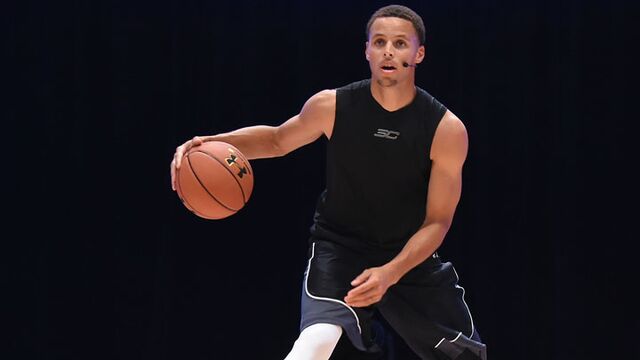 Under Armour Inc. surged after the athletic-apparel maker topped first-quarter earnings estimates and raised its annual forecast, offering fresh evidence that it can maintain its growth pace.
Earnings rose to 4 cents a share last quarter, the Baltimore-based company said Thursday before the market opened. Analysts had estimated 2 cents on average, according to data compiled by Bloomberg. Sales advanced to $1.05 billion, beating the average projection of $1.04 billion.

The results helped ease concerns that Under Armour -- whose sales have more than doubled in the past four years -- was losing steam. Earlier this month, Morgan Stanley cut its target price on the shares, citing third-party data that showed weakness in its women's apparel. But the company demonstrated growth in a range of categories on Thursday. Footwear sales jumped 64 percent to $264 million, helped by a basketball shoe from NBA star Stephen Curry.
"These results are a great example of what happens when we execute at a high level and deliver compelling head-to-toe product for the consumer," Chief Executive Officer Kevin Plank said on a call with analysts.
The stock rose as much as 8.8 percent to $47.80 in New York trading after the results were posted, marking the biggest intraday increase in almost three months. The shares had previously gained 5.5 percent this year through Wednesday.
Sales Forecast
Under Armour boosted its annual revenue forecast to $5 billion, up from $4.95 billion. That would put it on pace for a 26 percent gain this year. It expects operating profit of as much as $507 million.
Under the guidance of Plank, who founded Under Armour in the 1990s to make football gear, the company has been growing faster than many of its sports-apparel peers. It has averaged about a 30 percent sales gain for each of the past three years, boosted by expanding outside the U.S. and into new categories such as basketball and golf. The stock has tripled in the past three years as investors pushed its valuation on a price-to-earnings basis to roughly three times that of Nike Inc., its larger competitor.
Chinese Push
The company's overseas sales grew 56 percent last quarter. The key was China, where revenue almost tripled -- exceeding all the sales generated in the country last year. To accelerate growth in China, Under Armour will open 120 stores, either operated itself or through partners. Curry will also visit the country after the basketball season ends to help promote Under Armour.
Under Armour has been using Curry to help build a global brand, mimicking a strategy used by Nike with Michael Jordan and Kobe Bryant. The company plans to leverage Curry's star power during the NBA playoffs by releasing a new signature shoe on July 1 for $135, a $5 bump from the current version. The shoe is tied to Curry's Golden State Warriors winning a record 73 games this season, topping the 72 games won by Jordan's Chicago Bulls. Another Curry shoe will then be released this fall.
"Stephen's phenomenal season has brought unprecedented attention to our overall footwear business," Plank said. Curry "is driving both expansion with key mall partners and credibility with the hardcore basketball kid."
Before it's here, it's on the Bloomberg Terminal.
LEARN MORE