technology
S&P 500 Loses Grip on 4-Month High as Stocks Fall Amid Earnings
By
Verizon, Travelers shares retreat after quarterly reports

Benchmark index fades on approach toward all-time high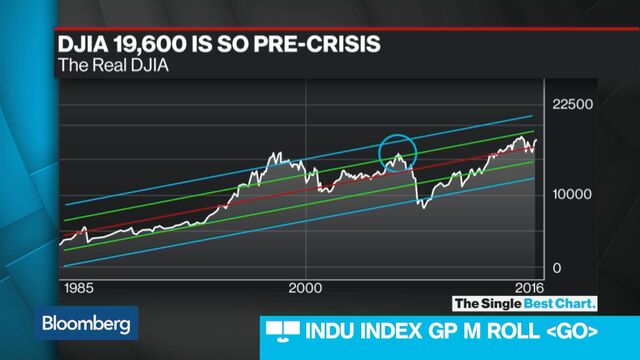 The Standard & Poor's 500 Index fell the most in two weeks, sliding from a four-month high amid a mix of corporate earnings that provided little incentive for investors to send U.S. stocks higher.
Equities failed to extend a climb toward fresh records as earnings season picked up, dispensing enough disappointment to overshadow gains in shares of companies that beat expectations. Verizon Communications Inc. and Travelers Cos. dropped more than 3.3 percent after reporting results, while Biogen Inc. rallied and Union Pacific Corp. jumped to the highest since November as their earnings exceeded forecasts. After the markets closed, Google parent Alphabet and Microsoft Corp. fell as their results missed predictions.
The S&P 500 retreated 0.5 percent to 2,091.48 at 4 p.m. in New York, declining from the highest level since Dec. 1. The Dow Jones Industrial Average lost 113.75 points, or 0.6 percent, to 17,982.52 after reaching a nine-month high. The Nasdaq Composite Index decreased less than 0.1 percent. About 7.4 billion shares traded hands on U.S. exchanges, 8 percent below the three-month average.
"We've gone up 15 percent in two months so pauses here are not unexpected," said  Steve Chiavarone, a portfolio manager with Federated Investors in New York. "Earnings are obviously very much in the news right now. We came through the financials part pretty well -- expectations were set low and there were no events that weren't expected -- but that was just the first test of the season."

The S&P 500 has climbed 14 percent since its February low, bolstered by a rebound in oil prices, easing of concerns over China's slowdown and optimism Federal Reserve policies will remain supportive of growth. The benchmark is less than 2 percent away from a record reached last May, after erasing 2016 losses of as much as 11 percent.
Energy shares in the benchmark have led the two-month rebound on crude's recovery, mimicking a similar rally late last year that followed the S&P 500's first correction in four years. That surge eventually withered in early November after the index came within 1 percent of its record, a level the gauge briefly reached on Wednesday. In today's selling, the two groups with the best performance this year -- phone companies and utilities -- were the hardest hit.
The earnings season is well under way, with more than 100 of S&P 500 companies through with reporting. Analysts are projecting a 9.5 percent decline in first-quarter profit for index members, compared with forecasts for flat growth at the start of the year.
Alphabet dropped 4.6 percent as of 4:44 p.m. as quarterly sales and profit missed analysts' estimates. The world's largest Internet search provider is grappling with a slowdown in advertising. Microsoft sank 4.2 percent after its earnings missed, with a weak personal-computer market pulling down results.
Earnings Movers
Mattel Inc. fell 5.8 percent after the world's largest toymaker reported a bigger-than-forecast quarterly loss. Qualcomm Inc. declined 0.8 percent after executives indicated the maker of smartphone chips is bracing for the loss of some orders from Apple Inc. That sent Apple 1 percent lower. Under Armour Inc. added 6.8 percent after profit topped predictions and its raised its annual forecast. American Express Co. gained 0.9 percent after its earnings beat estimates.
"Earnings for the most part are not as bad as feared," said Jasper Lawler, a London-based market analyst at CMC Markets Plc. "Just the Fed by itself at this point is not enough to really catalyze the next big move in the market. You have to have earnings move alongside that. We expect the present move in the market to peter out as we get closer to the older highs because we just don't have the earnings to justify the next leg."
The European Central Bank today left its interest rates at record lows and kept the size of its bond-buying program unchanged. President Mario Draghi said during a press conference the ECB remains ready to step up stimulus if the outlook for the euro area worsens, while adding that risks to the euro-area outlook are tilted to the downside.
As U.S. policy makers weigh data to decide on the path for rates, a report today showed jobless claims unexpectedly decreased to the lowest level since 1973 as the labor market remains a pillar of support in the world's largest economy. A separate report showed an index of leading economic indicators rose less than forecast in March and the prior month was revised lower.
Rate Bets
Fed officials will hold a two-day meeting next week, with the rate decision on April 27. Traders are pricing in zero chance of higher borrowing costs next week, with November now the first month with at least even odds of a boost.
Amid Thursday's trading, the Chicago Board Options Exchange Volatility Index rose 5.1 percent to 13.95. The measure of market turbulence known as the VIX yesterday snapped a six-session streak of declines, the longest in almost two months.
Among the S&P 500's 10 main industries, phone companies fell 2.7 percent under Verizon's drag, while utilities sank 2.2 percent to mark the worst two-day slide since August. Consumer staples, which reached a record earlier this month, sank 1.7 percent for the steepest back-to-back drop since December. Health-care shares were the only group to gain as Biogen led a rally in drug developers.
Verizon lost 3.3 percent, the most since December 2014 to reach a two-month low. The company warned that its standoff with about 39,000 striking workers will put pressure on second-quarter earnings, overshadowing an otherwise positive earnings report.
Coke, Travelers
Coca-Cola Co. slid 1.6 percent, weighing on consumer staples for a second day following an underwhelming quarterly report on Wednesday. The beverage maker had the worst back-to-back drop in seven years. PepsiCo. Inc. lost 1.4 percent on top of a 1.8 percent decline yesterday. Whole Foods Market Inc. retreated 4 percent, the most in nearly three months.
Financial companies fell for the first time in four days after reaching a 2016 high, with Travelers capping its biggest drop since 2011. The property-casualty insurer said first-quarter profit slipped 17 percent as catastrophe costs climbed and investment income dropped on lower hedge fund returns. Chubb Ltd. and Hartford Financial Services Group Inc. lost at least 3.6 percent.
United Continental Holdings Inc. declined the most in 11 months after a weak revenue forecast sparked concern that the airline is struggling to catch up with its rivals' financial performance. A Bloomberg index of U.S. airlines tumbled 3 percent, the steepest since February, with Delta Air Lines Inc. and American Airlines Group Inc. losing more than 3 percent.
The Nasdaq Biotechnology Index jumped 2.8 percent to a three-month high, boosted by Biogen's climb and gains of more than 2.4 percent in Celgene Corp. and Regeneron Pharmaceuticals Inc. The S&P 500's health-care group rose for a fourth session, the longest winning streak this year.
General Motors Co. increased 1.5 percent to a three-month high as first-quarter earnings and sales exceeded estimates amid record results in North America, and it stepped toward a 15-year goal of ending losses in Europe.
Among other companies moving on corporate news, Viacom Inc. rallied almost 14 percent, the biggest jump in more than seven years, after reaching new programming deal with Dish Network Corp. that averts the blackout of channels such as Comedy Central and MTV.
— With assistance by Manisha Jha
Before it's here, it's on the Bloomberg Terminal.
LEARN MORE