business
Think Merkel's Got Problems Now? Wait Until She Takes On Libya
By
German chancellor's realpolitik risks leaving voters behind

Reducing refugee numbers `is Merkel's live-or-die issue'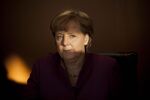 Angela Merkel is pushing the boundaries of her realpolitik.
A leader whose pragmatism trumps ideology every time, the German chancellor faces international criticism, alienated voters and a rift in her coalition because of her choices in combating the refugee crisis.
That might just be the start of her difficulties. With the European Union deal she pushed with Turkey beginning to deter illegal migration, Merkel is shifting her focus to the surge in refugee flows across the central Mediterranean to Italy. And that means engaging with Libya and Egypt.

Merkel will host U.S. President Barack Obama and the leaders of the U.K., France and Italy in Hanover, western Germany, on Monday to discuss Libya and migration, Syria and Islamic State, along with what the White House described as additional steps NATO allies must take to address the "challenges on Europe's eastern and southern periphery."
German intelligence suggests some one million refugees are waiting in the Maghreb countries to cross to Europe, causing alarm in the Chancellery in Berlin, according to an official from Merkel's party who asked not to be named discussing internal deliberations.
German foreign policy is now "driven by the domestic imperative to bring down the number of refugees: this is Merkel's live-or-die issue," said Josef Janning, head of the Berlin office of the European Council on Foreign Relations. Germany is set to become "much more active" in North Africa, and "for Merkel this is a challenge, because you have to be cautious about doing things that the public doesn't understand."
Insulting Erdogan
Faced with Europe's biggest refugee crisis since World War II, Merkel is being forced to shed her traditional caution and expand her engagement into geopolitical spheres traditionally off-limits to Germany. Her dilemma: the further she reaches, the harder it is to keep voters on board, risking a backlash that further undermines her domestic standing at a time when Europe is beset by instability on all fronts.
Take Turkey. Merkel was accused of sacrificing press freedom to appease President Recep Tayyip Erdogan after she allowed the prosecution of a German comedian for insulting him. The decision was contested by her coalition partner, criticized by Human Rights Watch and prompted a drop in her approval rating to the lowest level of her third term.
Yet she's already looking to replicate the Turkey deal with Europe's "many other neighbors," Merkel told reporters Monday. Libya "gives us particular worry," so Germany is seeking to help build a unity government in the war-torn state under Fayez Serraj even without it having parliamentary legitimacy or an army at its command, she said.
"A lot of refugees from Africa are in Libya," said Merkel. "Naturally, it's not as easy to conduct negotiations there and to get some kind of burden-sharing as with Turkey."





It's the latest example of how Merkel, driven by the imperative to stabilize Europe, has rebooted German foreign policy in her 10 years in office. First, Greece compelled her to openly embrace Germany's role as Europe's economic leader, then Russian aggression in Ukraine saw her become Europe's counterpoint to Vladimir Putin. Now she's being forced to look beyond Europe's borders in an attempt to get at the root cause of migration from Africa, Asia and the Middle East.
Egyptian President Abdel-Fattah El-Sisi is emerging as the next partner, with Merkel dispatching one of her top lieutenants to Cairo to meet with him this month. Volker Kauder, the parliamentary leader of Merkel's Christian Democratic Union, pledged German help in securing the border with Libya.
"The yardstick for whom we talk to and with whom we are ready to make agreements always has to be whether we can influence events in a positive direction," said Juergen Hardt, the foreign-policy spokesman for Merkel's bloc in parliament. "Germany's well-being depends on it."
The diplomacy was given added urgency by a United Nations report Wednesday that 500 migrants traveling from Libya to Italy may have drowned, highlighting the fact human traffickers are already switching routes away from the Aegean. Germany is among EU nations that agreed to consider sending a five-warship fleet closer to Libya's coast to deter trafficking.
Italy, which is once again becoming the main landing point for refugees as the so-called Balkan route is closed off, has floated its own plan to stem migration across the central Mediterranean.
Merkel's coalition is meanwhile pressing for Algeria, Morocco and Tunisia to win EU designation as so-called safe-origin countries, a step that would ease the process of repatriating citizens who don't qualify for asylum in Germany.

Time may be running out for such agreements. Three state ballots in the first half of next year followed by the federal election next fall means German policy-making effectively ends in 2016, according to another person familiar with the chancellor's strategy. If she runs, the key to a fourth term for Merkel will be if she can keep voters on her side with her version of realpolitik.
"The German public has become accustomed to a post-Cold War frame of mind" of a "peaceful, democratic, secure" Europe, said Daniel Hamilton, executive director of the Center for Transatlantic Relations at the Johns Hopkins School of Advanced International Studies in Washington.
"There was a sense that Germany's role in the middle of this was to simply enjoy it and not to have to defend it," Hamilton said in an interview. "That's the difference: Either you project stability east and south or instability comes to you. That is what Germany is grappling with."
— With assistance by Patrick Donahue
Before it's here, it's on the Bloomberg Terminal.
LEARN MORE