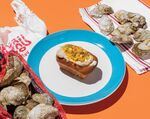 Combining dinner and a grocery run once meant raiding the hot bar at Whole Foods. Now, restaurants are opening retail markets right inside.
Rapp Session
318 East Grace St., Richmond, Va.
rroysters.com
Cousins Ryan and Travis Croxton have been farming Rappahannock River, Olde Salt, and Stingray oysters in Chesapeake Bay since 2001; they opened the 80-seat Rapp Session in February as a place to serve and sell their harvest—and that of other locals. "A lot of amazing suppliers only sell to chefs, because they don't have the infrastructure to handle retail," says Ryan. "We're giving these people a storefront." Inspired by the country store once run by their grandfather, the market sells staples such as rice, beans, Marcona almonds, house-made pickles, and oysters two ways. You can buy them raw and shucked for at-home preparation ($18/pint) or get them on chef Dylan Fultineer's unconventional oyster roll ($15): They're poached and stuffed into a bun with kimchee, salsa verde, and tartar sauce.
 
Centrolina
974 Palmer Alley, Washington, D.C.
centrolinadc.com
Chef Amy Brandwein's sleekItalian market and osteria sells European imports such as Calabrian hot sauce and dried pastas, as well as fresh eggs and yogurt from regional farms. But Centrolina's tart apple marmellata ($6), made in-house from local pink lady and Granny Smith apples, is what you want to pick up and slather on baked breakfast goods (or any other marmellata conduit, really). At the restaurant, Brandwein uses it to add a sweet note to savory, smoky dishes, such as wood-roasted porchetta ($29) and Brussels sprouts ($10).
 
Suprema Provisions
305 Bleecker St., New York
supremaprovisions.com
This Greenwich Village wine bar serves a menu of pan-European dishes featuring impeccably sourced ingredients such as Ramón Peña sardines—"the world's best," says owner Joshua Wesson, and a favorite of Spain's top chefs for their old-style preparation and silky texture. He serves them as an appetizer with gremolata (chopped lemon zest, garlic, and parsley) and Parmigiano-Reggiano in the restaurant ($10) and stocks them by the tin ($14.50).
 
Formento's & Nonna's
925 W. Randolph St., Chicago
formentos.com
Formento's, which opened this past January in the West Loop, is modeled after classic Italian joints of the 1950s: Think red leather banquettes, free-flowing martinis, and authentic Sunday gravy—red sauce simmered with roasted pork neck bones, pancetta, and sweet fennel sausage—served over house-made rigatoni-style pasta topped with fresh whipped ricotta and meatballs ($23). Or you can pick up a jar ($9.50) at Nonna's, the adjoining sandwich shop named for owner John Ross's grandmother.
 
 
SOMETHING TO SNACK ON
The traditional charcuterie-and-cheese plate gets an upgrade
 


Belcampo Meat
Santa Monica, Calif.
Celebrity chef Mario Batali developed a pepperoni recipe to suit the free-range, heritage hogs raised by this California ranch-butcher-restaurant. You can buy it by the link ($13/8 oz.) or try it alongside salami, mortadella, cultured butter, pickled beets, and rosemary caraway mustard on the Belcampo by Batali board ($18).


 
Society Fair
Alexandria, Va.
Todd Thrasher's Tonic cheese is named after Society Fair's lead mixologist (is there any higher honor?); the artisanal gin-and-tonic-washed goat cheese ($12/4 oz.) is the result of his collaboration with Coach Farm. Those enjoying it at home might take inspiration from the restaurant's Big Bad board ($35), which also includes such items as house-made pate de campagne, white bean dip, and carrot dal.
 

Blackbelly Market
Boulder, Colo.
Blackbelly's Grand Selection ($50) is an ever-changing charcuterie and cheese spread including at least10 types of house-made meats, plus pickles, mustard, and fruit preserves. One standout: pork terrine studded with poached sweetbreads and foie gras, wrapped in bacon ($35/lb.).
Before it's here, it's on the Bloomberg Terminal.
LEARN MORE