Sony Operating Profit 9.4% Below Forecast on Impairment Charge
by and
Company took impairment on stalling camera module demand

Sony revises outlook ahead of April 28 earnings announcement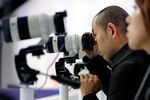 Stalling global demand for smartphones has made a larger-than-expected dent in Sony Corp.'s annual profit growth.
Operating income was 290 billion yen ($2.6 billion) in the 12 months ended March, 9.4 percent below its January outlook, Sony said Thursday. That's still a fourfold increase from the last fiscal period. The Tokyo-based company booked a 59.6 billion yen impairment charge for the business that makes camera modules, citing "a decrease in projected future demand."
Sony has relied on image sensors, supplying customers including Apple Inc., to bolster profits while Chief Executive Officer Kazuo Hirai shifts focus from consumer electronics to chips, video games and movies. The smartphone slowdown will test its ability to generate earnings from PlayStation 4 consoles, streaming services for its 50 million online users as well as movies and music.
"Demand might be slowing, but that doesn't mean that it's all doom and gloom going forward," said Keita Wakabayashi, a Tokyo-based analyst at Mito Securities Co. "There are other factors that can sway demand, like the uptake of higher-end smartphones in China and sensors for front-facing cameras. The market may bottom out in the April-June quarter."
Sony shares closed Thursday at 3,070 yen and the stock is up more than 2 percent this year. The announcement was made after the market closed.
Lowered Expectations
Sony scaled back expected demand for the sensors and lenses that go into cameras as well as smartphones, with cash flow unlikely to recover the carrying amount of the assets. The company is assessing the impact of this month's earthquake in Japan for earnings in the current year.
Global smartphone sales growth will probably slow to 7 percent in 2016, Gartner forecast in March. While users in mature markets choose to hold on to their handsets longer, potential buyers in Asia-Pacific region may delay upgrading theirs until the functionality and pricing of low-cost devices improves and makes them more desirable, the researcher said.
Sony in January reduced its sales forecast for the devices business, which makes batteries and chips that turn light into digital signals, by 120 billion yen, citing the smartphone slump. It also throttled back spending on chips 12 percent to 255 billion yen in the fiscal year ended March.
Sales for the year were 8.1 trillion yen, 2.5 percent above forecast, and net income in the period was 145 billion yen, 3.6 percent more than projected. The company reports final earnings results on April 28.
Before it's here, it's on the Bloomberg Terminal.
LEARN MORE