Saudi Arabian Stocks Enter Bull Market After Crude Recovery
by
Tadawul All Share Index joins gauges in Dubai, Abu Dhabi

Kingdom this month to set out vision for Saudi Arabia's future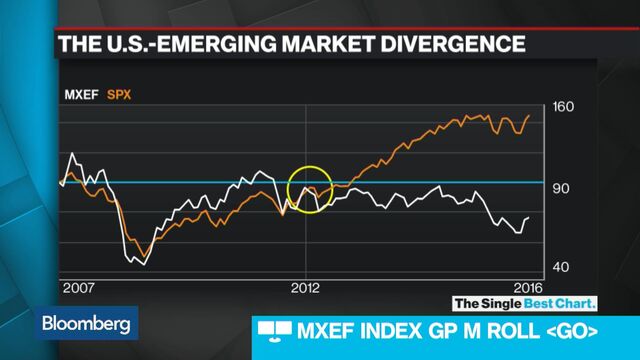 Saudi Arabian stocks entered a bull market after the price of crude, the kingdom's main source of revenue, climbed above $45 for the first time this year.
The Tadawul All Share Index added 1.2 percent at the close to take its gains since a January low to 21 percent, above the threshold of a so-called bull market. The benchmark gauge for the Arab world's biggest bourse follows measures in Dubai, Abu Dhabi and Qatar, which all passed the milestone this year.

A more than 60 percent recovery in crude prices since a low in January is buoying stocks across the six-nation Gulf Cooperation Council, home to about a third of the world's oil. Saudi Arabia has announced plans to diversify its economy by raising non-energy revenue by $100 billion by 2020 as well as creating the world's largest sovereign wealth fund. It will unveil the "Vision for the Kingdom of Saudi Arabia" on April 25.
"Investors are optimistic of what they are going to hear in the coming few days regarding the National Transformation Plan," said Tariq Qaqish, the Dubai-based head of asset management at Al Mal Capital PSC. "If oil continues to go up," the rally can be sustained, he said.
Brent crude, a benchmark for half the world's oil, traded 0.7 percent higher at 3:15 p.m. in Riyadh at $46.13 per barrel. It's gained 7 percent this week.
Trading volumes on the benchmark gauge were more than 50 percent above the 20-day average, according to data compiled by Bloomberg. The Tadawul has risen for three weeks running to the highest level since Jan. 5, sending the measure's 14-day relative strength index to 65. A level above 70 is a sign to some analysts a security is poised to decline.
Saudi Basic Industries Corp., one of the world's largest petrochemical manufacturers, led the advance, climbing 2.6 percent to the highest level since December.
Before it's here, it's on the Bloomberg Terminal.
LEARN MORE