Putin Must Help Prevent Syrian Cease-Fire Collapse, Obama Says
By and
Effort to end war `may be breaking down,' U.S. president says

Russia says terrorists provoked renewed Syrian offensive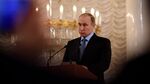 President Barack Obama said a cease-fire in Syria's civil war may be disintegrating, after peace talks broke down in Geneva this week and fighting flared up around the city of Aleppo.
The cease-fire "is very fragile and may be breaking down," Obama said at a news conference in Riyadh after meeting with leaders of Persian Gulf Arab nations. Russian President Vladimir Putin must hold his ally, Syrian President Bashar al-Assad, to account for renewed violence in the country, Obama said.
Obama and Putin spoke by phone on Monday about the situation in Syria. Russia's ambassador to the United Nations in Geneva, Alexei Borodavkin, on Thursday defended the Assad regime's renewed offensive in Aleppo as a response to "provocations" by an arm of al-Qaeda.
Obama has said that Assad has "shattered" his country, and has lost legitimacy to lead his people after a five-year civil war that has left more than 270,000 dead and forced millions to flee their homes.
Talks Fail
Assad has refused calls to step down from power and has benefited from a Russian bombing campaign that targeted his enemies. Opposition representatives and the Syrian government agreed to participate in peace talks brokered by the United Nations earlier this year, and signed off on a partial cease-fire.
The main opposition group on Monday quit the negotiations as fighting began to ramp up in parts of Syria where the ceasefire had largely held since February. The White House has blamed the Assad regime for repeated violations of the agreement. The opposition group said it won't return unless the government halts its attacks and allows humanitarian aid into contested parts of the country.
Much of Obama's discussion with the Gulf nations focused on how to counter Islamic State extremists who have taken hold in Syria and Iraq, as well as how to advance a political solution to the crisis that would take Assad out of power.
Iraq Turmoil
The president also spoke with the Gulf states about political turmoil in Baghdad, where sectarian divisions threaten to undermine the government.
Secretary of State John Kerry paid a visit to Iraqi Prime Minister Haidar al-Abadi earlier this month. The trip came days after Abadi appointed a new cabinet without the approval of the country's parliament. The U.S. has made a stable Iraqi government a priority as it tries to disentangle itself from years of war in the country.
"There's a dam that needs to be fixed," Obama said, referring to a structure near Mosul that risks collapse after Islamic State occupied the city. "There's a lot on their plate. Now's not the time for government gridlock or bickering."
Obama spoke Thursday in Riyadh on the second and final day of his trip to Saudi Arabia for a meeting of Gulf nations. His remarks came shortly before he departed for the U.K., where he'll meet with Prime Minister David Cameron and members of the royal family. Obama will then travel to Germany, where he will attend a conference with other European heads of state.
The fighting in Iraq and Syria has sparked Europe's biggest migrant crisis since World War II, and Islamic State militants have claimed credit for deadly terror attacks in Brussels and Paris.
--With assistance from Henry Meyer.