OPEC Keeps Oil-Freeze Idea Alive Even as Iran Obstacle Remains
by and
Door still open for producer cooperation, says Saudi adviser

Iran reiterates it won't accept freeze until output restored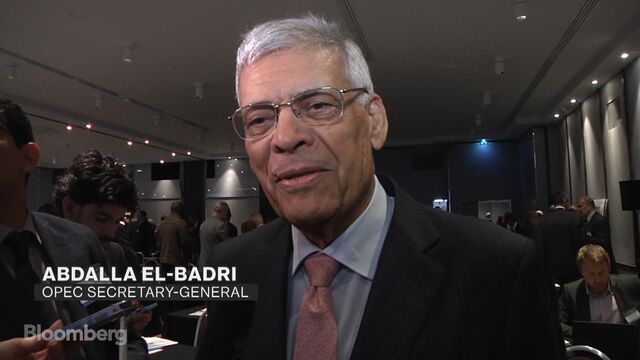 Oil producers in OPEC did their best to keep alive the prospect of freezing output after the collapse of talks in Doha over the weekend, even as Iran reiterated that it wouldn't be part of any deal for now.
The door is still open for cooperation between oil producers and an accord will be discussed at the next meeting of the Organization of Petroleum Exporting Countries in June, said Saudi Oil Ministry adviser Ibrahim Al-Muhanna. Members of the group will return to the idea of freezing output and probably hold further talks with other nations, OPEC Secretary-General Abdalla El-Badri said at a conference in Paris Thursday.
Sixteen nations -- representing about half the world's oil output -- gathered in the Qatari capital on April 17 in a bid to stabilize the global market. The talks collapsed after Saudi Arabia insisted its arch-rival Iran -- which didn't attend the meeting -- join the freeze agreement. Tehran has ruled out any limits on its output as it ramps up after sanctions over its nuclear program were lifted in January.
"We're going to secure our market share as it was before sanctions, " Seyed Mehdi Hosseini, chairman of Iran's Oil Contract Restructuring Committee, told reporters in Paris. "If the freeze will help the market after we come back to the level of production that we had before sanctions, that could be considered."
Iran's pre-sanctions output was about 4.2 million barrels a day, Hosseini said. The nation pumped 3.2 million a day last month, according to data compiled by Bloomberg.
OPEC and other crude producers could meet in Russia, possibly next month, in a new push to agree on an output freeze to shore up oil prices, Iraq's Deputy Oil Minister Fayyad Al-Nima said separately Wednesday in a phone interview. There has been no agreement on holding another meeting in Russia, said Alexander Novak, Russia's Energy Minister.
"Given the discussion we had on Sunday, the possibility of reaching an agreement is relatively low," Novak said in an interview in Moscow Wednesday.
Before it's here, it's on the Bloomberg Terminal.
LEARN MORE