Next-Generation Chips Hit a Snag
Chipmakers await machines that make faster transistors.
By and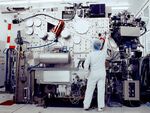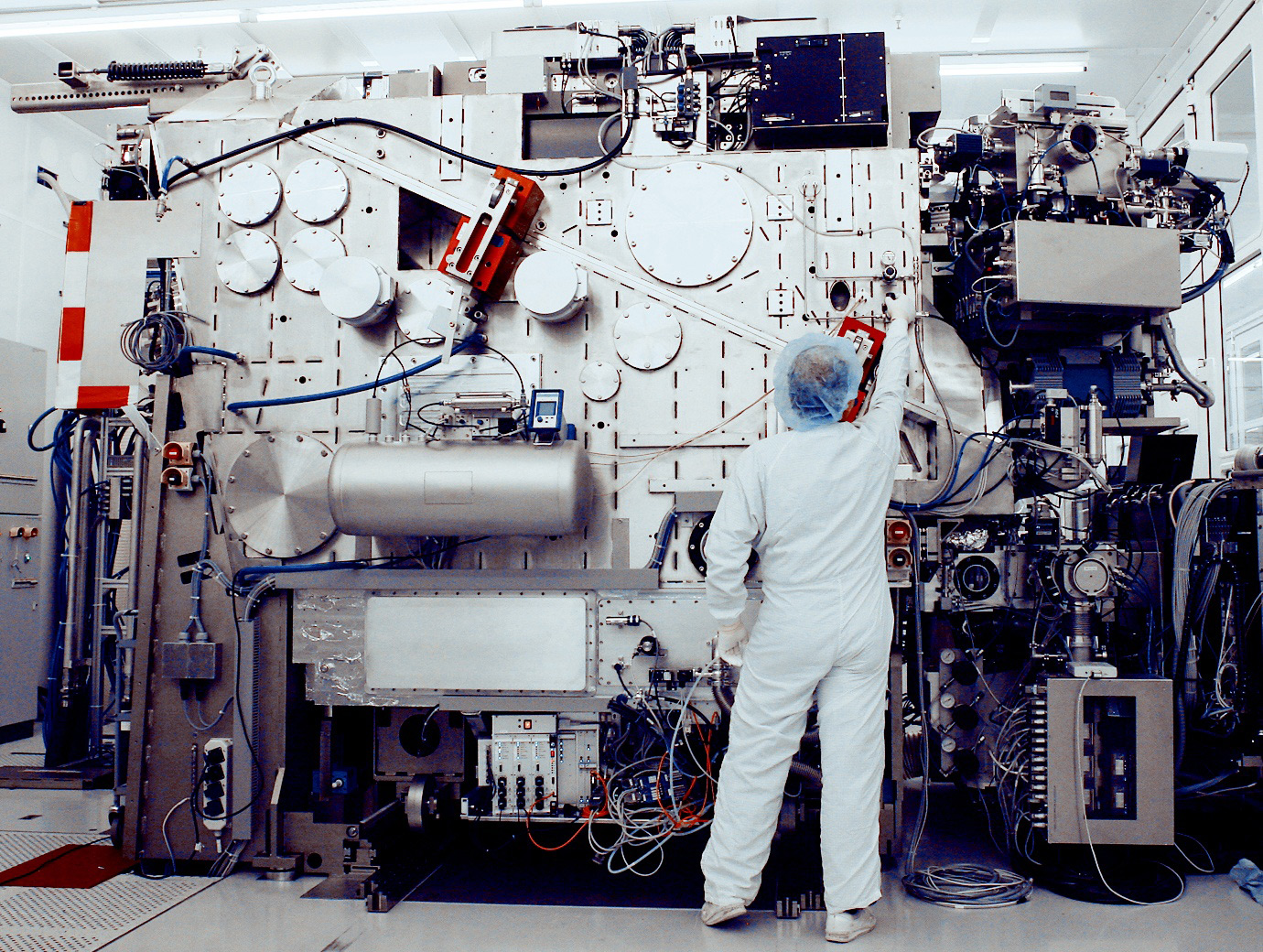 As chipmaking advances have run up against the limits of physics, threatening to push up manufacturing costs, the industry's leaders have placed a great deal of faith in a Dutch company called ASML. For most of the past decade, ASML has been promising that its new technique for creating transistors would allow chips to keep getting slimmer and more powerful at the rates we're used to. In 2012, Intel, Samsung, and TSMC took the unprecedented step of investing about $1.6 billion in ASML to speed its research and paid close to $5 billion for 23 percent of the company.
ASML expects to ship as many as seven new machines this year so chipmakers can start testing the technology, known as extreme ultraviolet lithography (EUV). Chief Executive Officer Peter Wennink says most of his customers expect to incorporate EUV by 2019, and he's prepping for orders within the next year. "The industry needs EUV," he says.
So far, though, the technology for EUV is proving less efficient than once thought and possibly unable to deliver the returns investors hoped for. Even alternatives that would make smartphone and PC parts costlier have started to look more attractive, says Patrick Ho, an analyst at investment bank Stifel Nicolaus. "The industry made their bet several years ago that EUV would be the next generation," he says. "It's been very disappointing." TSMC declined to comment for this story. Samsung didn't respond to a request for comment.
Lithography is the process of using concentrated rays of light to burn lines into layers of materials deposited on silicon, a crucial step in creating transistors—and a natural choke point for engineers working at a near-atomic level. These days, companies are trying to etch lines smaller than the wavelength of the light used to do the work, hence the push into extreme ultraviolet beams with shorter wavelengths. "Without EUV … your economics are worse," says Weston Twigg, an analyst at Pacific Crest Securities. "If EUV is not ready, things get a lot harder."
The problem is that beams with shorter wavelengths use a lot of energy, and ASML's machines require substantial downtime because EUV dirties the mirrors used in the process. According to its public statements, ASML aims to cut the EUV machine's required downtime, from the current 25 percent to 30 percent, to 20 percent by yearend. Not exactly what you want to hear when the price tag (even without the research and development funding) runs to eight figures, making it the most expensive device in the plant.
Stifel Nicolaus's Ho says ASML, one of Europe's few technology powerhouses, has to prove it can keep to its schedule. Its latest, that is. In 2007, former CEO Eric Meurice said EUV machines would be cost-effective for chipmakers by 2012. Says Pacific Crest's Twigg: "It's probably the most advanced scientific research program in the world. Yet the program is still behind."
In February, TSMC co-CEO Mark Liu told investors that his company has backup plans. That month, Intel's director of lithography strategic sourcing, Janice Golda, wrote in a company blog post that the question with EUV is when, not if. But, she added, "the road to EUV lithography production is a long one." Chipmakers tend to incorporate manufacturing advances in two- to three-year cycles, so if EUV isn't ready this year, ASML's next big chance would be closer to 2020.
For now, the most obvious way to get smaller lines is to use current lithography techniques a greater number of times on each chip. The big chipmakers have been loath to do that because it takes longer, always top of mind in a $10 billion factory that will be obsolete within five years. Yet the complex nature of EUV development should be the bigger concern, says Robert Maire, president of Semiconductor Advisors. "There are so many things that can go wrong," he says. "We may never see a payback on the investment and time put into EUV."
The bottom line: Intel, Samsung, and TSMC may start to see signs that their $1.6 billion investment in ASML is paying off.
Before it's here, it's on the Bloomberg Terminal.
LEARN MORE