Microsoft Profit Misses Estimates Due to Higher Tax Rate
by
CEO Nadella looks to Azure, Office to Make up for Slow PCs

Without `catch-up' adjustment, would have beaten estimates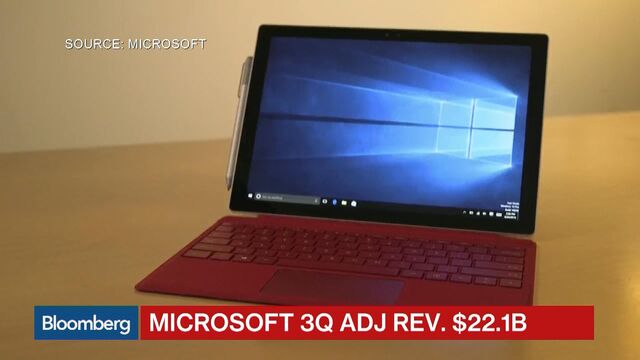 Microsoft Corp. reported earnings that fell short of analysts' estimates due to a higher tax rate in the quarter and a weak market for personal computers.
Profit excluding certain items was 62 cents a share, and sales adjusted for deferrals were $22.1 billion, in the fiscal third quarter, which ended March 31, Microsoft said in a statement Thursday. Analysts on average estimated profit would be 64 cents on revenue of $22.1 billion, according to data compiled by Bloomberg. Analysts' estimates didn't include the one-time tax.
Without the "catch-up adjustment" to the tax rate in the quarter, Microsoft would have beaten analysts' profit forecasts, Chief Financial Officer Amy Hood said in an interview. The company is trying to buck a declining market for PCs while its cloud services, such as the Azure computing platform and the Internet-based Office 365, are growing rapidly and reached an annualized revenue run rate of $10 billion.
"If not for the tax, the headline that goes out is Microsoft beats by two cents and then the stock goes up 3 percent," said Dan Morgan, senior portfolio manager at Synovus Securities Inc. "If you look at segment revenue it looks like a pretty good quarter. They seem to be doing what they say they're supposed to be doing."
Shares Fall
Microsoft shares fell as much as 5.2 percent in extended trading following the report, after closing little changed at $55.78. The stock was unchanged during the three months that ended in March, compared with about a 1 percent increase in the Standard & Poor's 500 Index.
Net income declined to $3.76 billion, or 47 cents a share. The quarter's income tax expense included an adjustment to account for an expected increase in the full-year tax rate partly related to its cloud business, Hood said. As cloud uptake increases, that carries a higher tax rate for Microsoft than traditional software sales, she said. The full-year tax rate should be closer to Microsoft's usual 20 percent to 21 percent rather than the 24 percent adjusted rate in the fiscal third quarter, she said.
Still Morgan said revenue in Microsoft's cloud and server group came in a bit below what he wanted to see, particularly given the company's focus on cloud as the future. Revenue from Intelligent Cloud, the unit that includes Azure and server software, was $6.1 billion. That compares with the $6.26 billion average estimate of analysts.
"The more that grows, the more we get an indication that Microsoft will be a player here and they're not going to be a has-been," Morgan said.
Azure revenue rose 120 percent in constant currency, the company said.
Corporate Cloud
Microsoft has pledged to reach annualized revenue of $20 billion in its corporate cloud business by the fiscal year that ends in June 2018. As of the end of last quarter, that metric stood above $10 billion, Hood said. The company has been adding customers and workloads for Azure, which let clients run and store applications in Microsoft's cloud-data centers.
The Redmond, Washington-based company in July said it would cut as many as 7,800 jobs and take a writedown on its Nokia handset unit, and take a restructuring charge as it scaled back ambitions for making its own mobile phones.
Unearned revenue, a measure of future sales, was $25.9 billion. Two analysts polled by Bloomberg had expected an average of $24.8 billion.
The quarter was an abysmal one for worldwide personal-computer shipments, which slid to their lowest quarterly total since 2007, according to market researcher Gartner Inc. Microsoft's sales of Windows to computer makers fell 2 percent, better than the overall PC market but still demonstrating the impact of the sector's difficulties on Windows.
"The PC weakness is a secular trend that they have to manage as well as they can," said Sid Parakh, a portfolio manager at Becker Capital Management, which has about $3 billion under management.
Windows Uptake
Still Microsoft is touting its Windows 10 uptake. The company's latest operating system software was released at the end of July and is now on running on more than 270 million devices, the company said last month. Windows Chief Terry Myerson noted that puts Microsoft on track to reach the 1 billion number it pledged within two to three years of Windows 10's release. The uptake so far is four times the adoption pace of the much-maligned Windows 8 and 1.5 times that of the more popular Windows 7, he said.
Revenue in the more personal computing segment, which includes Windows and Xbox, rose 1 percent to $9.5 billion, above the $9.17 billion average estimate of four analysts polled by Bloomberg, bolstered by increases in search and Xbox Live revenue.
In Transition
Revenue from productivity software such as Office grew 1 percent to $6.52 billion. That compares with the $6.57 billion average analyst estimate.
While the traditional Office business -- the software suite that includes Word, Excel and PowerPoint -- has been lackluster in recent quarters, the Office 365 cloud versions of those programs are growing in both consumer and corporate usage. Office 365 revenue grew 63 percent in constant currency, the company said.
Still, the transition Nadella is overseeing is neither simple nor short. It will take Microsoft from a company with Windows as its flagship to one that relies more on Office, Azure and the SQL Server database products; from a company that sells software for clients to install on their own PCs and in their own offices and data-centers to one that sells more services delivered in the cloud. But so far the signs are good, Parakh said.
"There's still a long ways to go in terms of the multiple-year transition in the company from a Windows and on-premise software company to a cloud, mobile and service-oriented company," Parakh said. "But everything we've seen for the past few quarters has been positive."
(A previous version of this story corrected the reporting period in the second paragraph.)
Before it's here, it's on the Bloomberg Terminal.
LEARN MORE