Groove Masters of the Vinyl Revival
How two guys in Salina, Kansas, helped make the vinyl record resurgence a long play.
By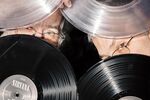 You don't hear this very often anymore in Salina, Kan., but business is booming—for one company at least. Amid the blue-collar town's shuttered factories and empty grain elevators sits the squat brick warehouse that's home to Quality Record Pressings, which does exactly what its name says. QRP's services are so much in demand, it had to stop taking orders temporarily last August; for much of last year, Chad Kassem, founder and chief executive officer, had to run the plant 24 hours a day to work through a backlog of some half a million albums overdue to be pressed. QRP manufactures about 1.6 million records a year—from artists ranging from Miles Davis to Nirvana—making it one of the largest such plants in the country. And demand won't quit. "Nobody wants to hear you bellyaching about how you're so busy," says Kassem, 53. "But who wants to turn away work because you don't have time to do it?"

Dudes like Kassem have helped keep vinyl alive for the last, oh, four decades, ever since the format started losing ground to technological marvels such as the eight-track and cassette tape. For a long time, the core customer was a middle-aged man who sifted through dusty crates to round out his Steely Dan collection. This is more or less the market QRP still serves. But now a significant and growing number of vinyl heads are millennials—or even younger. They buy new records rather than used, and many are women, which explains why last year's best-selling artists on vinyl were Adele and Taylor Swift, and why Whole Foods Market, Urban Outfitters, and Barnes & Noble have all gone old-school. The average price these kids pay is about $20, though limited editions made for April's Record Store Day, the shopping holiday created in 2007 to boost vinyl sales at independent record stores, can run well north of $50. That's a lot of money for music that's practically free in digital formats. Last year, 12 million records were sold in the U.S., according to Nielsen Soundscan, twice as many as in 2013 and 13 times the number from a decade ago. That translates to $416 million in revenue for the record labels, more than all of the millions and millions of fractions of cents earned from streams on Spotify, SoundCloud, and YouTube combined.

But here's the thing. To make a record, you need a machine to press it, and the last new vinyl press was manufactured in 1982, when the No. 1 song was Physical by Olivia Newton-John.
This is about when Kassem began to get into the business, however circuitously. The following year, 1983, he moved to Salina from Lafayette, La. He was 21, addicted to "just about everything," as he puts it, and looking for a quiet town where he could fulfill a court order to get sober. (It worked.) To keep occupied, he started collecting vintage jazz and blues records from estate sales and used record stores and then—because what else was there to do in Salina?—selling them out of his bedroom.
Kassem launched a mail-order record business, Acoustic Sounds, in 1986; in two years, he says, he was doing about $100,000 in sales a month, and he had to move the business out of his home because neighbors were complaining about the delivery trucks rumbling up and down their street. He rented office space, and then he rented more. He began selling turntables and other audio equipment. "Then I thought, What's better than selling old records? Making new ones," he says.

In 1990, Kassem started reissuing obscure, out-of-print albums under the label Analogue Productions. "I had $10,000 in cash in an envelope, and I went to Vanguard Records"—in New York—"and said, 'I want this title and this title.' The guy looked at me and was like, 'Woah, woah, woah, what is this?' But no one else was doing it, so they let me," Kassem says. He made a similar deal with jazz labels such as Verve Records and Blue Note Records. For each reissue, he'd place orders for a few hundred copies with Record Technology Inc., a plant in Camarillo, Calif. "We'd press anything back then," says Gary Salstrom, 57, who worked at RTI at the time. "We used to be excited to sell 1,000 records a year." Things carried on that way for about 20 years, until vinyl took off in the mid-2000s among the Pitchfork crowd. These people wanted a tangible way to show appreciation for music, beyond starring tracks on iTunes, a sentiment adopted by kids raised on the Jonas Brothers and Justin Bieber. Suddenly, RTI didn't have time for Kassem's orders. "Even if they wanted to help me out, I was placing 1,000-album orders for an old blues record, and here comes Warner Bros., who wants 40,000 of something," Kassem says. "So I said, 'Enough of this, I'll press my own.' "

He bought six presses online; he's now up to 10 (he won't say how much he paid, but they usually run about $150,000 each). Kassem moved them into a 23,000-square-foot former food-storage facility, and in 2011 launched Quality Record Pressings. He then called up former vinyl engineers, including Salstrom, and asked them to work for him. "They are willingly and unwillingly being dragged out of retirement," says Salstrom, who now runs Kassem's plant. "This was an industry that, until a few years ago, was all but dead. There just isn't anyone else out there who knows how to make a record anymore."
It wasn't always this way. During vinyl's heyday in the 1950s, '60s, and '70s, music labels owned their own plants, which they packed with hundreds of presses. "Sony had plants. EMI had plants. Warner had three or four of its own pressing plants in the U.S. alone," says Billy Fields, vice president of sales and account management at Warner Music Group, which uses QRP to press albums by the Talking Heads, Bonnie Raitt, and other artists. When CDs came along, the labels sold the plants, junked most of the presses, and outsourced orders to the few surviving independent companies. Now they need those presses again, but there are only so many in working condition—and most of them are owned by a handful of companies that, like QRP, are already running at full capacity. Two companies, one in Canada and one in Germany, are trying to manufacture machines, but none has gone to market yet. "It takes about 18 weeks between when I order something and when I can actually get it to my customers," says Nick Alt, founder and chief executive officer of VNYL, a Columbia House-style subscription service.

Through Acoustic Sounds, his mail-order business, Kassem was known in the music industry well before he started pressing records, so QRP picked up big-name clients right away. Jimi Hendrix's estate asked him to handle its reissues before Kassem's presses were even up and running. "I knew Chad through several blues projects he did, and I knew he does quality work, which you need if you're asking someone to pay that much for a record," says John McDermott, Hendrix's catalog director, who estimates he's sold 100,000 copies of Hendrix's 1967 debut Are You Experienced since switching to QRP in 2011. "But we also need volume. Hendrix has three albums on vinyl for sale at Walmart." Warner's Fields says: "We need Chad and his presses. He's not the biggest out there, but he's a maniac about quality."
Under Salstrom's eye, QRP dotes on every step of the record-making process. He obsesses over things like the type of nickel used to make the stamper (the grooved mold that gets "stamped" into soft vinyl) and the temperature of the water used to flash-cool each newly pressed album. Most of QRP's workers are former auto mechanics or heating and cooling engineers from Salina, with no background in acoustics or vinyl; Salstrom has had to teach them the intricacies of each phase of the process. The company is also working with its vinyl supplier to create a softer material that will pick up even more sonic detail.

Kassem wants to expand so that he can press even more records, but to do that he needs a bigger factory. Last year he and Salstrom drove to Chicago on a tip that someone was looking to sell 13 vinyl presses. Even though they were rusty and hadn't been used in 20 years, Kassem strapped them onto a flatbed truck and hauled them back to Kansas. The first of them should be fully functional later this year; once they're all restored, QRP says it will more than double its output. In the meantime, Salstrom says he's reduced QRP's backlog to just four to six weeks. The company has started taking new orders again—but only a few, and only by artists they like. "We don't do rap, and we don't do hard metal," Kassem says. "What's the point? If something is wrong with a metal record, you can't hear it anyway, because it's full of explosions." Sometimes, they'll turn down an order if it's too big: QRP is about a third the size of the country's largest pressing plant, United Record Pressing, in Nashville, which did Adele's 25 last year. Lately, QRP has been churning out a lot of Pink Floyd and Rush, and whenever an order for a Wilco album comes in, they take it, because it's Salstrom's favorite band. (The mail-order business still exists, too—it handles about 500 orders a day.)
With all this business, Kassem has found himself in the same situation as before he started QRP—his obscure reissues keep getting delayed. "About once a month, Gary and I have to have a meeting where I tell him, 'My records come first,' " he says. "I'm the chef who started the restaurant. I don't want to wait in line to eat."
Before it's here, it's on the Bloomberg Terminal.
LEARN MORE