Goldman Says Iron Ore's Going `Back to $35' as Glut Returns
by
Prices to drop by fourth quarter as supply swells, Lelong says

Iron ore reached the highest since January 2015 this week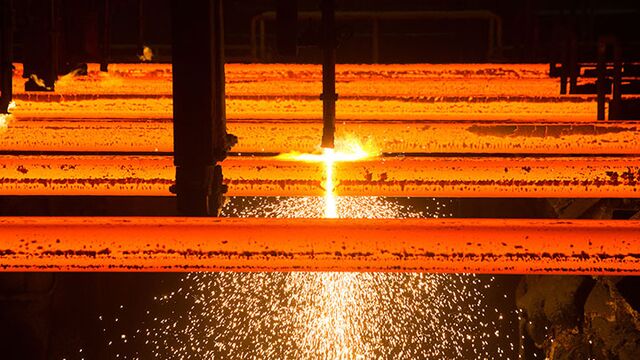 Goldman Sachs Group Inc. has one piece of advice after this year's dramatic iron ore rally: go short.
"We think this market will go back to $35 during the fourth quarter," analyst Christian Lelong said in an interview. That's 50 percent below Thursday's close of $70.46 a dry metric ton, the highest level since January 2015. "Our expectation is the oversupply in the iron ore market will return."
Iron ore has surged in 2016, in contrast to the previous three years when a slowing Chinese economy hurt steel demand and supplies increased. This year, policy makers in China have added stimulus, presiding over a revival in the property market that's boosted the outlook for steel consumption and prices. Still, burgeoning output and stalling demand growth may drag prices down once again, according to Lelong.
"Going into the second half of the year, what are you going to need to absorb all that iron ore supply?" New York-based Lelong said by phone from London on Thursday. The $35 forecast is for average prices in the final three months, and repeats a figure given by the bank in recent reports. "It's going to be very hard to have strong enough demand growth in the Chinese steel sector to keep things in balance."
Steel Rally
Ore with 62 percent content delivered to Qingdao fell 5.9 percent to $66.33 on Friday, paring Thursday's 8.8 percent surge, according to Metal Bulletin Ltd. data. Prices have rebounded 73 percent since bottoming at $38.30 in December, surprising many analysts who'd seen further losses.
In a report on Friday, Goldman analysts including Lelong said that while the rally in Chinese rebar was "leading the charge" in a commodities rebound, the bank didn't see a sustainable shift in raw-material fundamentals until the third quarter. The "tight steel market in China is a temporary distraction" for iron ore, the bank said. "The current rally is unsustainable."
Not everyone is bearish. There's room for ore to rise further as China's steel rally will probably endure over the rest of the quarter, according to Credit Suisse Group AG. Should demand for infrastructure absorb rising steel output, prices may be supported over the year, the bank said on Thursday.
Record Output
China's economy gathered pace in March as a surge in credit helped the property sector to rebound, with housing values in first-tier cities soaring. Mills in China, which make half the world's steel, posted record production last month as higher steel prices improved margins, reversing a squeeze.
"When we look at the profitability of steel mills, we've gone from multiyear lows late last year to a multiyear high in the last couple of weeks. It's a huge swing," Lelong said. "The margins are so attractive that you can afford to pay higher and higher prices for your raw materials. That means iron ore is now well above the" cost curve, he said.
Most-active SGX AsiaClear futures for June settlement gained to as much as $65 on Thursday and are 14 percent higher this week. Contracts for periods further into the future, known as the back end of the curve, show expectations that prices will drop, with the December 2019 contract at $43.81.

"Last year, we had the back end of the curve in the mid-to-low $30s," said Lelong, describing that as a fair level that was indicative of producers' marginal costs. "Right now, the back end of the curve is in the low $40s, and we think at that level, it's a good opportunity for producers to hedge."
Even miners have said they expect prices to retreat. BHP Billiton Ltd.'s Mike Henry, president operations, minerals Australia, told Bloomberg Television on Thursday more low-cost production is coming and "we'll see prices come back down again". Rio Tinto Group's Sam Walsh said last week prices "may well soften in the second half."
More supply is on the way from the two largest shippers. Cargoes from Australia may rise 10 percent to 846 million tons this year, the country's Department of Industry, Innovation & Science estimates. Brazilian exports will gain about 7 percent to 393 million tons, it said.
Before it's here, it's on the Bloomberg Terminal.
LEARN MORE