Goldman Sachs: Firming Fundamentals for Emerging Markets Will Prove Fleeting
By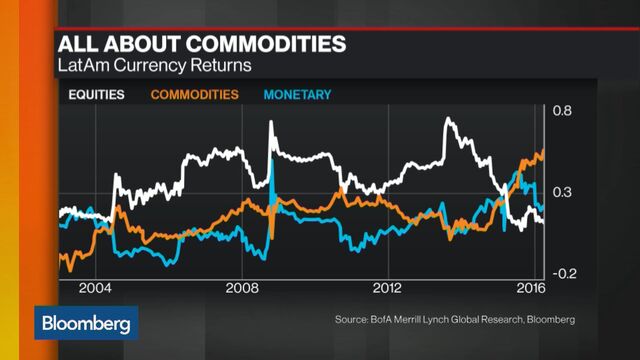 Don't think too hard trying to come up with an explanation for the fierce rally in emerging market assets that's occurred amid ongoing worries about political upheaval or elevated indebtedness.
Macro factors—the tumbling U.S. dollar, rising oil prices, subdued five-year U.S. Treasury yields, and a recovery in developed-market equities—have all driven the vast majority of the rapid rise in the MSCI Emerging Markets index, according to the Goldman Sachs Group Inc.
Goldman created a synthetic index based on these metrics to attempt to judge the extent to which the emerging market rally has been a function of shifts in these global variables:

"Since January 21, our synthetic index has risen 17 percent (versus a 22 percent rise in MSCI Emerging Markets Index), suggesting that 'beta' is the driving factor and not emerging market alpha," write a team of strategists led by Caesar Maasry. " The rally has been sustained by a combination of favorable macro factors, including a dovish Fed and subsequently weaker U.S. dollar– a backdrop which could change with additional Fed hikes expected in the coming quarters."
In addition, the strong connection between Goldman's synthetic index and the MSCI Emerging Markets index over a six-year stretch speaks to the difficulties of being an emerging markets portfolio manager. At any single point in time, changes in the macroeconomic backdrop tend to dominate country-specific concerns.
For instance, an investor could have knowledge of how a smoother-than-anticipated succession process in Oman could potentially foster a recovery in the nation's debt; but if the Fed unexpectedly raises interest rates in the interim, that micro expertise might be of limited use and provide little solace.
As such, if you were to compare emerging markets, as an asset class, to a part of the market structure, they'd probably be the mezzanine tranche: they sop up the superfluous demand during periods when risk appetite is healthy, but are the first to suffer when conditions start to deteriorate.
While Goldman believes the MSCI Emerging Market index did hit an intermediate trough earlier this year, the strategists remain skeptical about the sustainability of recent gains and the scope for further appreciation.
"While rallies often begin as a reversal of pessimism, and we largely view the rally from late January as such, a genuine improvement in fundamentals is often necessary for it to be sustained," write Maasry & Co. "Put differently, the perceived improvement in emerging market fundamentals has thus far been a 'mark-to-market' of the external backdrop (largely commodities), which we doubt will be sustained through the second quarter."
The upward trend in Citigroup's Economic Surprise index for emerging markets suggests that fundamentals have indeed been improving, or, at the very least, have been firming relative to expectations. But this, according to the strategists, is not sufficient for an extension of the advance in emerging market stocks.
Since 1990, nearly every equity bull market in developed economies has been underpinned by rising earnings. By contrast, Goldman anticipates that forward earnings per share for the MSCI Emerging Markets index is not poised to improve in the near term, giving this rally a capricious foundation.

"Underneath the surface, excluding Energy and Materials, emerging market earnings per share sentiment (stocks with net upgrades as a share of total) is still at 20-year lows," the strategists conclude.