GM Earnings Beat Estimates With Record North American Profit
by
Biggest U.S. automaker maintains profits in China with Buick

Company effectively broke even in Europe where sales rose most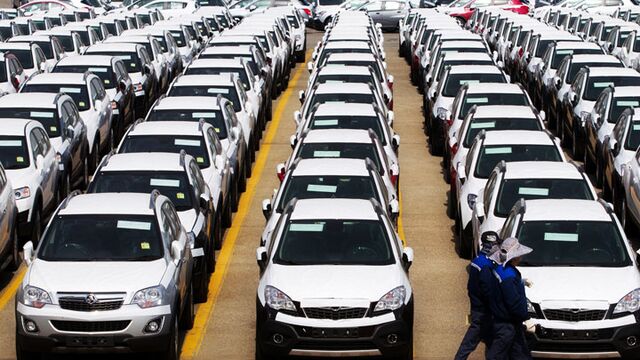 General Motors Co.'s first-quarter earnings and sales beat analysts' estimates by a wide margin as it posted record results in North America and stepped toward a 15-year goal of ending losses in Europe.
Net income more than doubled to $2 billion and adjusted profit rose to $1.26 a share, GM said in a statement Thursday, exceeding the 99-cent average estimate in a Bloomberg survey of analysts. Revenue increased $1.6 billion to $37.3 billion, topping the $35.6 billion average estimate, even as GM sold fewer vehicles worldwide.
The profit surge is partly payoff for GM's decision to forgo some low-profit fleet sales while feeding Americans' demand for moneymakers like sport utility vehicles and pickups. Performance improved around the globe with the company essentially breaking even in Europe and narrowing losses in South America. GM's challenge with investors will be proving it has more upside as U.S. auto sales level off in the coming years.
"The best thing we can do is continue to execute our short-term and long-term strategy and put results on the board like we have for the last couple of years," Chief Financial Officer Chuck Stevens told reporters Thursday at the company's headquarters in Detroit. "The share price will reflect that over time."

GM shares rose 1.8 percent to $32.77 at 11:37 a.m. New York time, showing investors may be taking notice. The biggest U.S. automaker posted record profits last year and forecast a record again in 2016. Despite that, the shares fell 5.4 percent to $32.19 this year through Wednesday.
"You have to hand it to GM," said Jeff Windau, auto analyst with Edward Jones & Co. in St. Louis. "They have been taking advantage of a strong market and have done extremely well. The problem is that people are concerned that the car market will turn at some point."

GM posted record North America first-quarter adjusted earnings before interest and taxes of $2.3 billion, and income from the company's China operations was steady at about $500 million, thanks to growing sales of expensive vehicles like the Chevrolet Silverado pickup in the U.S. and Buick Envision sport utility vehicle in China. Cadillac and Buick grew 6 percent and 22 percent in China, respectively.
GM said South America lost $67 million, an improvement from a $214 million loss a year ago.
In Europe, where GM has struggled to make a profit, the company posted a $6 million loss, nearly breaking even after losing $239 million in the region a year ago.
GM bought back $300 million in stock in the quarter. The automaker has repurchased $3.8 billion of the $5 billion planned in program.



A lot of GM's earnings strength came from improvements in areas that have been losing money for years. GM reduced staffing in its South American operations by 20 percent to cope with an economic crisis in Brazil, where the company's auto sales have fallen 29 percent this year, CFO Stevens told reporters.
"South America has been and will always be a volatile market, and clearly the recovery in Brazil is going to be key," he said in a Bloomberg Television interview. "The action we've been taking over the last number of years to take cost out of the business, to continue with a strong product pipeline, continue to build the brand, I believe that puts General Motors in a position to earn significant profits when the macro situation improves in Brazil."
GM's global decline in vehicle sales is because of trouble in South America and other regions outside of major markets like the U.S., Europe and China, where the company increased first-quarter sales.
"We're growing where it counts, gaining retail share in the U.S., outpacing the industry in Europe and capitalizing on robust growth in SUV and luxury segments in China," Chief Executive Officer Mary Barra said in the statement. "This strong quarter also reflects the excellent progress we're making to improve results in our more challenged global markets."
GM has been working to break even in Europe for more than 15 years. Stevens said the company expects to reach that goal this year.
"The quarter was a great start to a year in which we anticipate strong growth in earnings and free cash flow," Stevens said in the statement.
Before it's here, it's on the Bloomberg Terminal.
LEARN MORE