business
Germany Chiding Belgium on Nuclear Safety Part of Broader Push
By
France and Switzerland also criticized by Germany over safety

Germany seeking European agency to oversee atomic power plants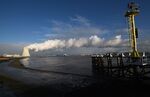 Germany's chastising of Belgium over nuclear safety is part of a broader strategy to wrest control of atomic power from national governments and create a European agency with the muscle to close reactors.
The request from Germany to temporarily shut two Belgian reactors follows spats with France and Switzerland in the last seven months over safety at atomic plants in those two countries near their shared borders. Germany itself is phasing out the use of nuclear power.
The dust ups are a sign that Germany is upping pressure on its partners to back creation of a European nuclear safety agency with executive powers -- there is none at present -- where it could leverage its influence as the leading proponent of an atomic energy phase-out. Nuclear safety procedures in the European Union currently are the preserve of national agencies, which routinely report and share information over incidents at plants.
German government action on nuclear safety "shows its takes the mandate of its citizens deadly seriously," Environment Ministry spokesman Michael Schroeren said in a phone interview. "You can't count on the European Commission to take the lead on a pan-European safety -- it only has rosy eyes for atomic power."
The request Wednesday from Chancellor Angela Merkel's government to temporarily close the Tihange-2 and Doel-3 reactors, owned by Engie SA, over safety concerns marks months of wrangling with Belgium over the plants, both of which are close to Germany's border. The Belgian government said the country's nuclear safety agency is responsible for the matter, and the agency responded with a warning: Further cooperation with Germany depends on their willingness to "collaborate in a constructive fashion."
German Environment Minister Barbara Hendricks lodged a protest with France last September after she said President Francois Hollande was reneging on a promise to close down an incident-prone reactor in Fessenheim on the Franco-German border. France this month said it may speed the plant's shutdown. Reactors supply about 75 percent of France's power compared with 14 percent at present in Germany. Hendricks ministry in January criticized the "safety culture" at Switzerland's Leibstadt reactor.
Germany's conflict with its partners over the alleged safety of nuclear reactors "is primarily a measure to show your own population that you're capable of acting," Severin Fischer, senior researcher at ETH Zurich's Center for Security Studies, said by phone. "There is little room for influence when it comes to implementation. The energy mix is the sacred cow of national energy policy."
Safety concerns blend with other frustrations in Germany as European partners such as France, the U.K., Finland and the Czech Republic refurbish or build new reactors, while Germany struggles to exit from the use of nuclear power after 60 years. The Fukushima catastrophe in 2011 prompted Merkel to order the closing of all German atomic plants by 2022 -- a move broadly supported by the general public.
Merkel's government is locked in prolonged talks with nuclear-plant owners including E.ON SE and RWE AG over the expense of shutting their plants and storing waste for eternity. The costs are likely to be shared with taxpayers. Germany also faces a bill from France and the U.K. for the return of enriched uranium rods and the country still must come up with a plan to permanently storing its atomic waste.
— With assistance by Birgit Jennen, Weixin Zha, Patrick Donahue, and Ewa Krukowska
Before it's here, it's on the Bloomberg Terminal.
LEARN MORE