German Bunds Drop as Draghi Boosts Appeal of Corporate Debt
by
Central bank holds interest rates; no new stimulus announced

Draghi says inflation will rebound in second half of 2016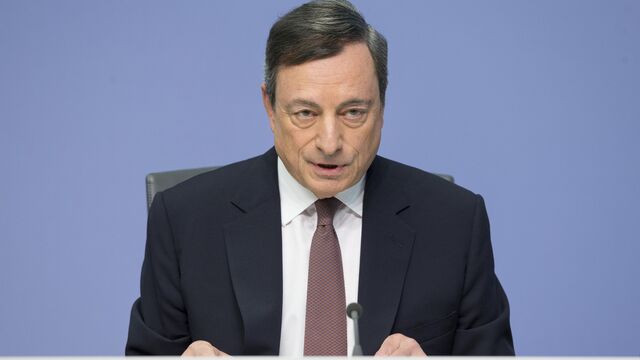 Euro-area government bonds declined, with Germany's 10-year yield jumping the most in four months, as European Central Bank officials kept monetary policy unchanged and fueled speculation that planned purchases of corporate debt will sap demand for sovereign securities.
 
President Mario Draghi gave terms for the ECB's purchases of company debt in a press conference on Thursday. He said the region's inflation should pick up in the second half of the year and that officials are focusing on implementing measures announced in March. A bond-market gauge of inflation in Germany was close to its highest level this year.

A corporate bond-purchase program that's set to start in June under quantitative easing will extend to insurers and non-bank companies, Draghi said. The maturity of debt purchased may be as much as 30 years and national central banks can buy a maximum of 70 percent of each bond, according to the ECB statement today. It didn't specify the amount of monthly purchases targeted.
"Right now expectations are for about 5 billion euros, but with today's details this could be higher potentially," said Gianluca Ziglio, a strategist at Sunrise Brokers LLP in London. "The fact that the ECB is moving from QE to credit easing is already bad for governments. It shows the emphasis is not on European government bonds any more, at the margin at least."
'Helicopter' Not Discussed
Officials hadn't discussed potential policies such as "helicopter money," Draghi said, and kept interest rates unchanged on Thursday, along with the size of the bond-buying program. No economists surveyed by Bloomberg forecast a change to the rates.
Germany's 10-year bund yield rose nine basis points, or 0.09 percentage point, to 0.24 percent as of the 5 p.m. London close, the biggest increase since Dec. 3. The 0.5 percent security due in February 2026 fell 0.845, or 8.45 euros per 1,000-euro face amount, to 102.53.
Spain's sovereign bonds fell as the nation auctioned 2.6 billion euros of debt. The 10-year bond yield increased six basis points to 1.60 percent.
The cost of insuring investment-grade European corporate debt tumbled to the lowest since August. The Markit iTraxx Europe Index of credit-default swaps dropped two basis points to 69 basis points, according to data compiled by Bloomberg. The Markit iTraxx Europe Crossover Index of swaps on junk-rated companies fell nine basis points to 293 basis points, set for the lowest since December.
Eligibility Universe
"The universe for CSPP-eligibility is larger than expected, thus the bund is coming under pressure," said Orlando Green, a rates strategist at Credit Agricole SA's corporate and investment-banking unit in London, referring to the ECB's "corporate-sector purchase program."
Last month policy makers cut rates and expanded the asset-purchase program to include corporate bonds in an effort to return inflation back toward their goal of just under 2 percent. The annual rate of consumer-price inflation was at zero in March. While inflation will be low in the region for a long time, it should increase later in 2016 and continue growing in 2017, Draghi said.
"Our policies work, they are effective -- just give them time," the ECB president told reporters in Frankfurt on Thursday. "Our monetary-policy measures have been supporting growth," he said. "With rare exceptions, monetary policy has been the only policy in the last four years to support growth."
German Inflation
Germany's 10-year break-even rate, a gauge of the outlook for inflation derived from the yield difference between bunds and index-linked securities, was little changed at 1.03 percent and earlier touched 1.08 percent, which would be its highest close this year.
"Draghi's confidence in the return to inflation" is weighing on European bonds, said Matthew Cairns, a strategist at Rabobank International in London. "Plus, he's made it clear that there has been no discussion of 'desperate measures' in the shape of helicopter money," he said, referring to a more direct form of central-bank stimulus to the economy than quantitative easing.
Before it's here, it's on the Bloomberg Terminal.
LEARN MORE