Cars
Roaring Through the Desert in the 2016 Ferrari F12 Berlinetta
Car columnist Hannah Elliott reviews Ferrari's most-powerful production car and finds a taut, electrifying ride.
By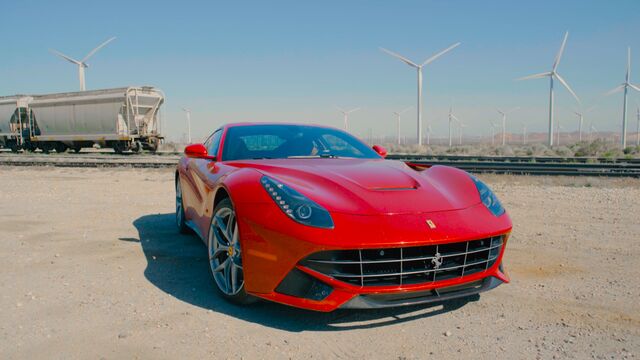 To the gentleman in the late-model Camaro SS who leap-frogged me for 50 miles last week on the way to Mojave, Calif., I'd just like to say: I get it.
I know the flash of red as my 2016 Ferrari F12 Berlinetta sped by must have inflamed your emotions, like a cape in the hands of a Spanish matador. How could you not press your foot down on your own throaty accelerator and see if I'd dare to keep up? After all, if I didn't, why was I driving this car in the first place?

You dared me to dance—and I did, because it helped me test the mettle of Ferrari's gorgeous $440,000 supercar. The 731-hp V12 engine more than held its own.
This is Ferrari's most powerful real production road car to date (excepting, lately, La Ferrari), made simultaneously comfortable and competitive enough so you can drive to the track, at the track, and then on the road home. If you think the less-expensive Ferrari California is a little basic for daily driving, and you don't approve of the turbo-boosting integral in the 488GTB, then the F12 Berlinetta is the one for you. Consider it in the same class as the Lamborghini Aventador and McLaren 675 LT.
Taut Power
I picked up the F12 Berlinetta one morning in Beverly Hills from a stylish salesman at the dealership, who had a hint of turquoise eyeliner that put to shame any makeup I may have been wearing—and drove deep into the Mojave desert.
I wanted to test this thing on a straightaway—and I wasn't thinking of the heartbreakingly short 10-15 second straightaways on most racetracks. I wanted to open it up with miles in front of me, with neither a car nor a cop within miles. If you own this car, you're going to need to find a nearby desert for yourself.

The first thing any driver will notice, of course, is the roar of the engine when you press the start button; "operatic" is not too strong a word. It should go without saying that you shouldn't buy this car if you don't like like attention. It is audibly arresting from the moment the engine turns, before people even see it.
Compare that chaotic roar to the feeling of driving, though, and you'll find quite a contrast. As you move through the paddle-shifted gears—it has a much-shortened gearbox to match the profound power of the car better—you won't even be aware of the transitions. The car moves effortlessly on its F1 suspension and rear-wheel drive as you weave through traffic. Unlike some other high-powered machines, it's never so skittish as to make you feel out of control.
The Stats
The carbon-ceramic brakes respond to the lightest touch without feeling brutish. I am not going to incriminate myself, but suffice it to say that you will hit 100 mph before you remember to draw a breath. (Zero-120 mph takes a hair less than 8.5 seconds—and yes, I did test this.) I can say unequivocally that if you buy this car you will get pulled over by traffic cops—partly because of how it looks on the outside and partly because everything on the inside is geared to make you drive faster and faster, like the red dots placed on the top of the steering wheel that light up as you press down harder on the gas pedal.

Here is some important information: The F12 Berlinetta weighs just 3,362 pounds and is 20 percent more rigid than its predecessor. Ferrari also moved the engine lower in the chassis than where it was before. That lowered center of gravity and tightened body improve the handling around corners and at high speeds.
But what I loved best about how the F12 drives it how it acts in between speeds—between 5th and 6th gear, say, or between 6 and 7. Maximum torque is 508 pound-feet, with 80 percent of that thrust available at the low-end 2,500 rpm, so when your own Mr. Camaro comes out of traffic to challenge you at speed on the freeway—I also had a murdered-out Shelby Mustang and Corvette Z06 make serious attempts to race—you can end the conversation immediately. Drop them.
Do I need to say how fast it is on paper? Zero to 60 mph is 3.1 seconds; top speed is 211 mph. But the only way to comprehend the shocking ease with which it achieves those numbers is to drive it yourself.
The Look
Appreciate the F12 first by standing back and taking it in. Although the word "berlinetta" means "little limousine" in Italian, the only long thing about this car is its nose. There is no back seat; in fact, the rear overhang has been reduced by 3.2 inches and the front overhang extended by 2.5 inches compared with the 599 GTB Fiorano. (All told, the car is shorter by 1.8 inches, lower by 2.4 inches, and narrower by 0.7-inches compared with the previous V12 coupe.)

Is the nose so long that it looks like it (you?) are compensating for something? I'm not one to judge. But it is fair to say that the hood does require extra length to cover that massive and beautiful front engine. (And yes, it really is a thing of beauty.)
The flashy styling inflections on the car also serve a purpose: Two "air bridges" between the front wheel arches and the A-pillars direct airflow off the hood to the F12 Berlinetta's pinched sides and flanks. Electronically controlled flaps on either side of the grille open when the carbon ceramic brakes get hot but stay closed otherwise, to minimize drag. The famous "T-shape" ends with two full-LED circular taillights and the F1-inspired rear fog light. It's the complete package.
Where to Splurge 
Slipping behind the wheel of the F12 Berlinetta is like dropping into a parallel universe. Controls on the steering wheel and dash all look different from in this car, from the push-button start to the computer screens behind the wheel (instead of on the dashboard). But trust your instincts when reaching to adjust the radio, the temperature, and the navigation—this interior is so intuitive, your first guess will probably be right.

There are some severe blind spots just over your right and left shoulders, should you turn your head to look around, but the ample headroom and generous legroom make you forget the inconvenience. So does the ledge that means the back isn't a total loss—it's big enough for small messenger bags and duffels.
If you buy this car, choose as much optional carbon fiber as you can—skip the $26,656 "Rosso Berlinetta" paint job that the car I drove had. Don't expect much by way of gas mileage—you're well under 18 mpg at optimal efficiency.
Then again, no one buys this car to save pennies—or the world. You buy it so you can drive it every day and impress your friends and people in Camaros when you race. And you're in luck: With the Ferrari F12 Berlinetta, turns out you can have your cake and eat it, too.
Before it's here, it's on the Bloomberg Terminal.
LEARN MORE