Fed's Brainard Made Additional Donation to Clinton in February
By
Fed governor has donated $2,700, the limit this election cycle

Chair Yellen has said legal donations don't hurt crediblity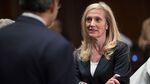 Federal Reserve Governor Lael Brainard gave $1,950 to Hillary Clinton's presidential campaign in February, Federal Election Commission records show.
While campaign contributions from federal government employees are legal, donations to a presidential candidate by a senior Fed policy maker are unusual. Brainard is the only member of the policy making Federal Open Market Committee to donate to any federal election candidate this year, according to FEC data.
Brainard's fourth donation since November brings her total contributions to Clinton, the Democratic presidential front-runner, during this election campaign to $2,700, the limit for individual candidate donations in the cycle. Brainard's previous contributions in that time span, totaling $750, were reported by Bloomberg in March, before the Feb. 1 donation appeared on the FEC's website.
Senator Richard Shelby, the Alabama Republican who heads the Senate Banking Committee, has said the contributions "call into question the political independence" of senior Fed officials. Fed Chair Janet Yellen said in March that legal donations from central bank employees don't undermine the Fed's standing as a non-partisan agency.
Fed spokesman David Skidmore declined to comment.