ECB Keeps Up Unprecedented Stimulus as Draghi Assesses Impact
by
Central bank leaves rates, asset-purchase program unchanged

Economists forecast no new measures at Frankfurt meeting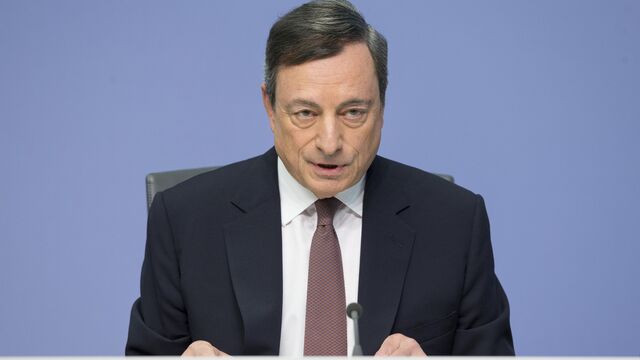 The European Central Bank left its interest rates at record lows and kept the size of its bond-buying program unchanged as President Mario Draghi waits to see how fresh stimulus measures announced last month affect the economy.
The 25-member Governing Council, which met in Frankfurt on Thursday, left the benchmark rate at zero, the deposit rate at minus 0.4 percent and asset purchases at 80 billion euros ($90 billion) a month. Economists in a Bloomberg survey had predicted no change in rates. Draghi will explain the decision in a press conference at 2:30 p.m. local time.
The ECB is battling a global economic slowdown and heightened political uncertainty as it tries to raise euro-area inflation to help sustain the region's recovery. In March -- when officials cut rates, expanded monthly bond purchases and announced a new long-term loan program for banks -- Draghi said policy makers will do more if needed.
"Draghi has to communicate that the ECB has responded forcefully to the downside risks, but it's going to take time for recent policies to be implemented and to evaluate their effectiveness," Nick Matthews, head of European economic research at Nomura International Plc in London, said before the announcement. Because his critics have become more vocal, Draghi also needs to offer reassurance "that the ECB will continue to do whatever is needed to meet its mandate."
The ECB said "the focus now is on the implementation of the additional non-standard measures" decided last month. More information on its corporate sector purchase program will be released after Draghi's press conference on the central bank's website.
The euro stayed higher after the announcement, trading at $1.1326 as of 1:50 p.m. in Frankfurt.
Monetary Limits
German Finance Minister Wolfgang Schaeuble ramped up his critique of the ECB's low interest rates this month, saying Draghi shares the blame for the ascent of populist political groups.
Germany's vice chancellor, Sigmar Gabriel, said on Wednesday that the ECB has "reached its limit" with stimulus measures. Similar sentiment on global monetary policies has been voiced by the central-bank heads of Australia and Canada, and former Bank of England Governor Mervyn King.
ECB Vice President Vitor Constancio last week defended the effectiveness of policy in reviving growth in the 19-nation currency bloc. "Given that monetary policy takes time to transmit to the real economy, the full effects of these measures on macroeconomic conditions have yet to fully materialize," he said in New York.
Some economic data give reason for cautious optimism. Euro-area joblessness is falling and lending terms for companies have eased, with credit demand rising. Even so, inflation has been below the ECB's goal of just under 2 percent for three years and is showing little sign of a pick-up.

A global slowdown poses risks to euro-area exports, and political uncertainty is clouding the outlook. The U.K. will hold a June 23 referendum on whether to stay in the European Union, and current polls suggest it'll be a close vote. A so-called Brexit could cause financial volatility that weakens the transmission of ECB policy.
More than 60 percent of economists in a Bloomberg survey this month predicted Draghi will boost stimulus again this year, putting the Sept. 8 policy meeting as the most likely date for action. Among those expecting fresh measures, most forecast an extension to quantitative easing.

For now, the focus is likely to be on technical details such as the bank-lending program that will start in June, and the addition of corporate bonds to QE later this quarter.
The central bank will "take stock of the market response to the March package, clarify its broader policy message and possibly announce detailed modalities of its upcoming purchases of non-financial corporate bonds," Greg Fuzesi, an economist at JPMorgan Chase & Co., said in a note. Inflation "is unlikely to rise as quickly as projected by the ECB staff and therefore we expect the ECB to ease further toward the end of this year."
Before it's here, it's on the Bloomberg Terminal.
LEARN MORE