Draghi Says ECB Critics Risk Provoking Need for More Action
by and
ECB president briefs media after rates, QE kept on hold

Central bank has been attacked by German politicians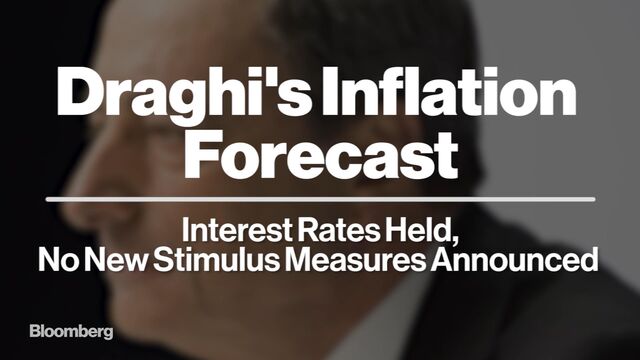 A visibly irritated Mario Draghi called for critics of the European Central Bank to give its stimulus room to work, and warned that attacks on the institution could lead to further measures being needed.
"Any time the credibility of a central bank is perceived as being put into question, the result is a delay in the achievement of its objectives -- and therefore the need for more expansion," the ECB president told reporters in Frankfurt, raising his voice. "Our policies work, they are effective. Just give them time."
The Governing Council earlier left the benchmark interest rate at zero and the deposit rate at minus 0.4 percent, and maintained asset purchases at 80 billion euros ($90 billion) a month, as predicted by economists. Officials cut rates and expanded quantitative easing at their previous meeting on March 10, when they also added corporate bonds to QE and announced a new series of long-term loans for banks.
"The ECB's focus is on policy implementation -- and independence," said Frederik Ducrozet, senior economist at Banque Pictet & Cie SA in Geneva. Draghi made a "polite, but robust, and powerful," rebuttal against German criticism, "elaborating quite a lot on the fundamental reasons why the ECB is doing the right thing."
As the ECB battles to revive inflation and sustain economic growth in the 19-nation euro area, it has come under attack from German politicians who say the policy burdens savers and wrecks retirement plans. Finance Minister Wolfgang Schaeuble ramped up his critique this month, saying Draghi shares the blame for the ascent of populist political groups.
Only Policy
Draghi countered on Thursday that his central bank has been almost the only safeguard against recession and deflation in the currency bloc.
"Our monetary-policy measures have been supporting growth," Draghi said. "With rare exceptions, monetary policy has been the only policy in the last four years to support growth."
While he acknowledged that low rates are squeezing pension funds in countries such as Germany, he said the 25-member Governing Council was unanimous in agreeing the ECB is acting within its mandate.
"We have a mandate to preserve price stability for the whole of the euro zone, not only for Germany," he said. "We obey the law, not the politicians, because we are independent."

"With Draghi saying the focus is now on implementation and asking for us to be patient, for the time being the ECB does not plan further measures," said Michael Schubert, an economist at Commerzbank AG in Frankfurt. "But on the other hand, he's keeping the door open for further measures if the assessment changes in maybe six to nine months' time."
Draghi said that if there were to be unwarranted tightening in broad financial conditions, officials would use all the instruments available within their mandate.
"It is essential to preserve an appropriate degree of monetary accommodation," he said. On interest rates, "we continue to expect them to remain at present or lower levels for an extended period of time, and well past the horizon of our net asset purchases."
Reflecting a stance adopted in March, the ECB president signaled an increased focus on the credit channel to pass on its stimulus measures to the real economy. He referred to the Bank Lending Survey this week that showed lending conditions for companies continue to ease.
"Credit continues, it's pretty solid," he said. "Together with a dramatic fall in rates and increasing volumes, this shows our measures are indeed quite effective."
Corporate-bond purchases will start in June and be carried out by six national central banks, the ECB said in a statement after the press conference. It will extend to insurers and non-bank companies, even in case where those companies own a bank. The maturity of debt purchased will be between six months and 30 years.
In coordination with the other measures, the program will return inflation to the goal of just under 2 percent, the ECB said. Inflation was zero last month and a market measure of expectations remains subdued.
"Now we have to be patient," Draghi said. "We have to wait."
Before it's here, it's on the Bloomberg Terminal.
LEARN MORE