Draghi Defies German Disfavor With Claim ECB Stimulus Works
by
ECB president uses economic gains to fight political pressure

Doubting central bank delays achievement of goals, Draghi says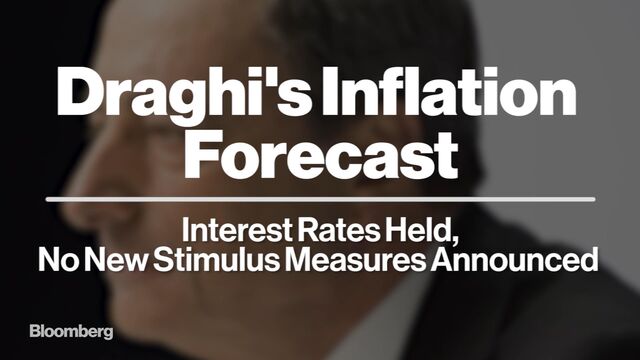 Mario Draghi has two stubborn adversaries -- low inflation everywhere, and low regard in Germany. He's now extending his offensive on both fronts.
A recovery in credit, and output proving resilient to global shocks, are buttressing the European Central Bank's argument that the range of stimulus measures it bolstered only last month is working. On Thursday, the ECB president used that evidence to make ground against German critics who say he's on the wrong track.
After more than four years at the helm of the central bank, Draghi is still fielding persistent attacks from the ECB's host country, where a public perception of him as a profligate Italian whose low interest rates are killing retirement savings has become part of the political furniture. At a press conference in Frankfurt, he fumed that the more critics undermine his stimulus, the more of it he'll have to do.
"Impatience in the markets and in politics can come up like a geyser sometimes, but the ECB has to continue to be as steady as a rock," said Torsten Slok, chief international economist at Deutsche Bank AG in New York. "The more it shows up in the data, the easier it is for them to say that their policies are working. The ECB is defending itself and making sure the arguments are solid."
German Angst
The backdrop to Thursday's policy meeting, where the Governing Council kept its interest rates on hold after cutting them to record lows in March, was colored by a row stepped up by Germany's Wolfgang Schaeuble. Draghi deployed a volley of arguments against the finance minister's charge that ECB policies are contributing to the rise of anti-euro populism, and the broader assumption that savers are being penalized, adding that Schaeuble either "didn't mean what he said or didn't say what he meant."
"In fact real rates today are higher than they were about 20-30 years ago," Draghi said. "But I'm aware that to explain real interest rates to savers may be difficult."
Draghi has been dogged by sniping in Germany since taking office, with the popular press often using his nationality as shorthand for a tendency to allow high inflation. In fact, he's had the opposite problem, with price gains too far below the 2 percent goal for more than three years.
Debt Crisis
That's partly because the 19-nation euro area suffered a debt crisis that almost became existential, and had to labor through two recessions in five years before its current growth stint. It's also because of something over which the ECB has no control, namely slumping oil prices.
"We are independent, so we'll continue in the course of policy action that we consider appropriate," Draghi said on Thursday. "Any time the credibility of the central bank is perceived as being put into question, the result is a delay in the achievement of its objective and therefore the need of more policy expansion," he said, raising his voice.
German Chancellor Angela Merkel later backed the ECB's independence, while saying a political debate about its strategy is "legitimate." Draghi also won backing from International Monetary Fund Managing Director Christine Lagarde on Friday, who said in Amsterdam that "we all agree" the central banks should be independent.
That jealously-guarded autonomy has always stood in the context of the ECB's delivery of its legal mandate, price stability. For Draghi, being able to show that unemployment is falling and the output gap is closing -- they are -- may prove vital in reassuring the public that inflation targets won't endlessly be postponed.
More Possible
Inflation is forecast by the ECB to average to just 0.1 percent this year and climb to 1.6 percent by 2018, based on the most recent ECB macroeconomic forecasts in March. Output will expand 1.4 percent this year and climb to 1.8 percent growth by 2018. 
Keeping even to those modest targets may still require more stimulus as the risks to the outlook are on the downside, according to the ECB. The current stretched state of policy -- a deposit rate below zero and bond purchases now expanded to corporate debt -- has led to a debate about the need for "helicopter money" from the central bank to finance fiscal spending if another shock comes along. Draghi dismissed that idea, but also insisted that officials are ready to use any tool within their mandate.
That stance means that it won't take much to bring back German criticism, even if it dies down for a while, according to Holger Sandte, chief European analyst at Nordea Markets in Copenhagen.
"We do expect a bit more from the ECB, on the rate side and an expansion of QE," he said. "So there are on the German conservative side people who need a scapegoat for the rise of populist parties. The next time the ECB has to do something, these arguments will be repeated."
Before it's here, it's on the Bloomberg Terminal.
LEARN MORE