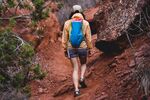 Customers who order one of Cotopaxi's $49.95 Luzon del Día backpacks don't know what they're going to get. That's because the outdoor gear company lets workers making the packs at a factory in the Philippines select the combination of colors used, so no two are the same. Besides injecting some creativity into what is typically mind-numbingly repetitive work, the strategy helps cut down on the amount of fabric that goes to waste.
The $646 billion outdoor recreation industry is filled with companies that have staked their brands on green ideals, Patagonia being among the most prominent. Fewer of these businesses, though, have embraced a humanitarian mission, says Davis Smith, Cotopaxi's founder and chief executive officer. "When I looked at a lot of the work other outdoor brands do around the environment, it's amazing work," he says. "Sometimes it's around preservation of land or national parks. The sad thing is, really, it's the elites that go to those things."
A Wharton graduate whose previous startup was a baby products e-tailer in Brazil, Smith draws inspiration from his itinerant childhood. Cotopaxi, which he founded in 2013, is named after the volcano that looms over Quito, the capital of Ecuador—a city where he once lived. Its logo is a silhouette of a llama's head.
Smith initially set out to model his Salt Lake City-based company on shoemaker Toms Shoes and eyeglass e-tailer Warby Parker, whose buy-one, give-one formula has helped turn them into household names. When Cotopaxi introduced its first backpacks, a portion of the sales of each design was earmarked for a particular nonprofit.
It made for a nice story: Buy a Cusco pack and help fund a shelter for street children in the Peruvian city of the same name. But as the company's range expanded to include almost 100 products, from water bottles to tents, its do-good mandate became cumbersome to administer. It also left Cotopaxi's beneficiaries exposed to the vagaries of consumer tastes: If a new backpack cannibalized sales of an earlier model, a charity could see its donations dwindle.
"I know nothing about the nonprofit world, other than that I'm passionate about it," Smith says. "That's why I needed Lindsey to come in and fix everything." That would be Lindsey Kneuven, who joined the company in June of last year to fill the newly created post of chief impact officer. Kneuven, whose résumé includes stints at the Silicon Valley Community Foundation and the Salesforce Foundation, has revamped the giving strategy so five grantee organizations, down from nine previously, receive a steady 2 percent of the company's revenue. "We are working on building a sort of endowment with those funds as well as actively granting with them," she says.
The nonprofits in Cotopaxi's portfolio fit into one of three categories: education, health, and livelihood. They range from scrappy nongovernmental organizations such as Educate Girls, whose work is focused on India, to more established groups such as the International Rescue Committee. "One of the most exciting things about working with Cotopaxi is their potential and ability to tap into the young professional, young humanitarian audience that we are looking to engage," says IRC Corporate Alliances Officer Shannon Paz. She says Cotopaxi helped IRC raise about $28,000 during last year's Giving Tuesday, a day in November that NGOs want to turn into a Black Friday for charitable causes.
To expand awareness of its brand, Cotopaxi stages one-day adventure races it calls Questivals, in which teams of two to six people complete outdoor challenges for a chance to win gear and trips. At the company's upcoming world championship, which runs April 22-30, participants will race across seven countries, from Belize to Panama. Along the way, they'll have to squeeze in good works, such as volunteering in soup kitchens. Armchair adventurers will be able to track the teams' progress on a proprietary app.
Cotopaxi is one of about 1,700 businesses worldwide that have registered as a Benefit Corporation, or B Corp, a legal category for corporations that hew to the concept of a double bottom line, in which financial goals don't take precedence over social ones. (Patagonia, Method Products, and Plum Organics are also B Corps.) Smith says his attorney advised him against going this route so early in the company's life: "He said that venture capitalists would not want to invest in this new type of entity that was giving away money before you even make money." Turns out his lawyer was wrong. Cotopaxi received $3 million in seed capital in 2014 and last year raised $6.5 million in a funding round led by Greycroft Partners.
"Having to bring in outside investors, that's kind of when outdoor brands go a bit sideways—when there are greater profit pressures," says Mike Geraci, chief strategy officer at MercuryCSC, a marketing firm where he's worked on brand planning for more than 50 outdoor companies. "By already having some sort of patient investor coming in and saying, 'I really like what you're doing here and I believe,' that is the model of the future."
The bottom line: At outdoor gear maker Cotopaxi, backpacks and tents have a social mission stitched into them.
Before it's here, it's on the Bloomberg Terminal.
LEARN MORE