business
Fraud Leaves China's Electric Car Demand in Doubt
By and
Government investigating legitimacy of electric vehicle sales

New-energy vehicle sales in China are double those in the U.S.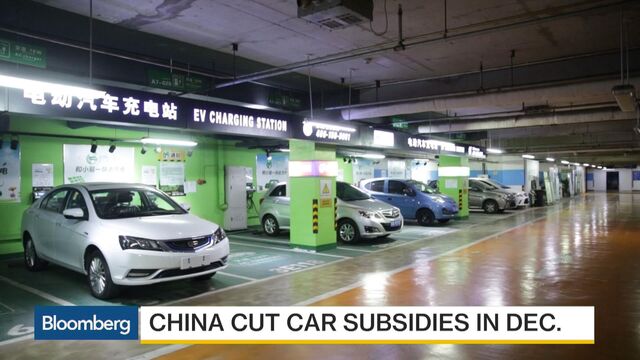 The numbers may have looked too good to be true. Suzhou Gemsea Coach Manufacturing Co., operating out of a blue metal shed west of Shanghai, told the Chinese government it produced 3,700 electric vehicles last year -- almost all of them in one month.
That month was December, the last before the government reduced subsidies it pays makers of electric and hybrid vehicles to help clear some of the world's smoggiest skies. When inspectors, accompanied by state TV reporters, swarmed the site in Suzhou to verify the numbers, they found a few Gemsea brand vans parked outside and hardly any modern assembly equipment inside.
The investigation casts doubt on the accuracy of reported Chinese electric-vehicle sales that are double those in the U.S. As the Beijing Auto Show approaches next week, the government is examining whether it doled out money for fake transactions by domestic companies, with the answer potentially curbing bullish expansion plans by Tesla Motors Inc., BYD Co. and other makers.
"Such behavior is despicable and deserves severe punishment," Stella Li, senior vice president for Berkshire Hathaway Inc.-backed BYD, said of possible cheating on subsidies. "By doing that, they disturbed the right market order and also led the government to have second thoughts as to whether they should change the existing funding structure."

Tesla and BYD are among the manufacturers showing 147 new-energy vehicles in Beijing. The China Association of Automobile Manufacturers sees all those new products helping sales more than double this year to 700,000 vehicles. Tesla founder Elon Musk says China's market has enormous potential given its pollution concerns, while Shenzhen-based BYD projects sales of its new-energy vehicles reaching 150,000 this year -- almost triple last year's total.
President Xi Jinping's administration wants 5 million "new-energy vehicles" -- either fully electric or hybrids -- hitting roads by 2020 to reduce tailpipe emissions and a reliance on imported oil. Central and local governments have spent 15 billion yuan ($2.3 billion) subsidizing new-energy vehicle makers since 2009, according to state-run China Central Television.
Dolphin Pair
The government now plans to phase out the subsidies after 2020 after concluding that the amounts paid to makers of commercial vehicles, in particular, are too high and don't encourage manufacturing efficiencies.
Gemsea is a little-known maker of electric vans -- both passenger and delivery -- stamped with a logo of two dolphins touching their snouts and tails. After applying for subsidies for selling 25 electric vehicles during the first six months of last year, Gemsea reported hundreds of deliveries in the fall and then almost 3,000 in December, according to CCTV. One client was a wholly owned subsidiary, while another couldn't verify the delivery numbers reported by Gemsea, the station said in its report broadcast on March 27.
"They have reported fraudulent production and sales numbers, and even obtained number plates before production," Dong Yang, leader of the investigation by four government ministries, said during the broadcast. "Gemsea did this because they want subsidies."
The Ministry of Industry and Information Technology, which oversees automakers and is involved in the investigation, didn't reply to a fax seeking comment.
Gemsea Denial
Gemsea declined to make its president, Yang Shuiping, available for comment when contacted by Bloomberg News. Production has been suspended pending the findings by the government probe, said a woman who answered the company's main switchboard. She declined to identify herself.
"We have nearly 300 clients who have signed actual contracts and made payments, and we have not engaged in any frauds," the company said in a statement subsequently posted on its website. "Gemsea has never thought of obtaining subsidies without producing the vehicles, but in order to meet the strong demand by clients to enjoy the favorable policies for NEVs, we have been careless in our management."
China's government may detail how it plans to cut the subsidies for plug-in hybrid and fully electric cars early next month, said Jeff Chung, an analyst with Bank of America Merrill Lynch. Payments to electric van and bus makers, including Gemsea, surged 600 percent in December from a month earlier and accounted for 41 percent of the entire sector's subsidies for the year, Chung wrote in an April 11 report.
Eliminating 'Cheaters'
Makers of electric commercial vehicles receive some of the most generous subsidies, and sales surged six-fold last year to about 120,000 units, the manufacturers association said. The combined subsidies for bigger bus-type vehicles can total as much as 1 million yuan, compared with about 100,000 yuan for passenger cars in some cities.
"We expect marginal players and subsidy cheaters to be eliminated by the new scheme," he wrote.
Most of the fraudulent sales likely come from bus makers, said Zhou Jincheng, an analyst with research firm Fourin Inc. Less than 10 percent of the bus sales were fraudulent, according to his estimate.
Gemsea reported making almost 3,700 vehicles last year, and 80 percent of them were produced in December. That monthly figure would have made the company eligible for about 100 million yuan in subsidies, CCTV said.
Copying California
Asked by a CCTV reporter to explain the rush of applications for government licenses at year's end, Gemsea's president said an inexperienced staff member made a mistake. The company sold 2,009 electric minibuses last year, he said. In its website statement, Gemsea said it received only 45.3 million yuan in subsidies.
"Gemsea's stance is very clear," the company said. "We'll completely accept the supervision by the government and accept whatever subsidies that the government finds we are eligible for."
China's regulators have proposed cutting subsidies for electric buses and imposing a price ceiling on passenger vehicles that qualify for incentives. It's also considering a California-like system in which carmakers can earn credits by selling cleaner vehicles or buying them from one another to stay in compliance with government objectives.
"Bad money will drive out good," said John Zeng, an analyst at LMC Automotive in Shanghai. "A few rotten apples are going to spoil it for everyone."
(Click SHOW <GO> for more stories from the Beijing auto show.)
— With assistance by Ying Tian
Before it's here, it's on the Bloomberg Terminal.
LEARN MORE