Brexit Campaign Accuses Obama of `Double Standards' Over EU
by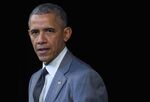 The campaign for Britain to leave the European Union accused U.S. President Barack Obama of double standards for advocating continued U.K. membership of the bloc.
The U.S. refusal to give up national sovereignty to international courts, and its lack of free movement of citizens from neighboring Canada and Mexico, are evidence that Obama isn't prepared to accept measures that replicate the U.K.'s EU membership, Vote Leave said Friday in a statement.
"President Obama, and every one of his predecessors, have ferociously protected the sovereignty of the U.S.A.," said Iain Duncan Smith, who resigned as work and pensions secretary last month amid rows over welfare cuts and the June 23 EU referendum. "What I do find strange is that he is asking the British people to accept a situation that he patently would not recommend to the American population."
Obama, who will meet Prime Minister David Cameron in London on Friday, has already said he favors a strong U.K. within the EU, and his office said he would add to those comments during his two-day state visit. With some polls showing the referendum is hard to call, the U.S. president's view has the potential to sway U.K. voters. A Pew Research Center poll in June found that 76 percent of Britons have confidence in Obama on matters relating to world affairs.
Campaigners for a Brexit have said leaving the bloc will allow Britain to regain control over how it spends billions of pounds a year that get paid into the EU budget, as well as independence from the European Court of Justice.
"It's a matter for the British people, but it is good to listen to your allies and friends," Cameron told BBC Radio Bristol on Thursday. "America is perfectly entitled to say as a friend of Britain 'I'm not going to tell you what to do, I'm just going to tell you what I think."
Before it's here, it's on the Bloomberg Terminal.
LEARN MORE